3 Document Storage Mistakes That Are Costing You Money
Wed, Mar 16, 2016
By: Jacob Gilmore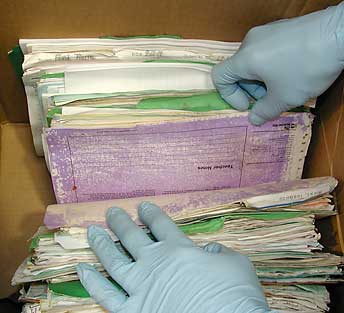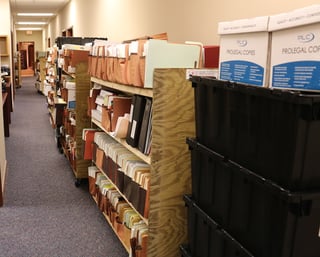 No business wants to lose money. In fact, successful business owners are almost always looking for ways to boost revenue, cut costs, or both.
Sometimes, the changes you need to make are right under your nose, but you don't recognize them because "that's how it's always been." Well, as Brian Tracy famously said, "if you only do what you've always done, you'll only get what you've always got."
Here are three refreshingly simple but powerful ways to cut costs and improve profits by challenging the status quo when it comes to your records management program.
Your file room is out of control
If you've been storing records at your own facility for years now, this will sound very familiar.
The Problem:
The paper filing system is antiquated. No one who originally set it up still works for the company, so no one knows it well enough to feel comfortable overhauling it. As a result, everyone just keeps piling things into the file room with little regard for what actually needs to be there or for how long.
As a result, your team is wasting hours every week printing records, figuring out where they go, hunting through the piles and overstuffed drawers, and filing them. This makes trying to find a record when it's needed even more challenging.
The Solution:
Four words: Off site records storage.
Removing your on site files frees up valuable office space that can be used profitably. It also eliminates all the wasted time your team used to spend filing and retrieving records from storage.
Instead, the paper files you generate each day are compiled and your document storage provider picks them up regularly. When you need a record from storage, you simply submit an online request and you can receive an electronic scan of the document almost instantly, or a paper copy in little time.
Your filing strategy is "save all the things"
Hoarding business documents is all too common. If your all of your files are on site, this can create a problem as described above. But if you're already paying for off site document storage, this mentality can still be costing you.
The Problem:
All records were not created equal. There are some business records that must be kept forever, others that should be kept for a number of years, others that really only need to be kept until the job is done, and still others that probably shouldn't be kept at all.
If you don't know the differences between all these types of records, you're likely paying (in one way or another) for storage you don't need.
The Solution:
Take some time to audit all of the different kinds of records your business generates and review that list with the company's accountant and lawyer. Between the two of them, they should be able to give you detailed direction on which records you're legally required to store, and for how long.
Then, run through the rest of the list and ask yourself (and/or your employees), "which of these records are we going to want to keep, and how long, realistically, do we need them?"
Using that compiled information, either overhaul your on site files or get with your off site records management company and set up a retention schedule to ensure you're not paying to store anything you don't actually need. From that point on, cutting down the files can become an automated process.
Your paper and digital files are vulnerable
While this may not be costing you anything at the moment, its cost down the road could be devastating.
The Problem:
Today's cyber thieves are more sophisticated than ever before. Just as quickly as our service providers come up with another security measure, hackers find its weakness and exploit it. Identity theft and other potentially disastrous situations can result.
And let's not physical breaking and entering. It still happens. If your customers' private identifiable information or your confidential business records are being protected by nothing more than a deadbolt and a metal drawer, you could be facing tremendous losses if you lose them.
The Solution:
Once again, off site document storage comes to the rescue. But just the fact that it's off site isn't the only factor at work. A reputable and experienced records management and secure document storage partner will ensure your records are secure from crime, hackers, even natural disasters. Remember, even the truck that transports them from your office to the storage facility should be guaranteed secure.
If you're bogged down with records management problems and you're looking for solutions, Gilmore Services can help and is here to answer your questions.