Understanding Best Practices For Commercial Warehousing
Wed, Jul 26, 2023
By: Jacob Gilmore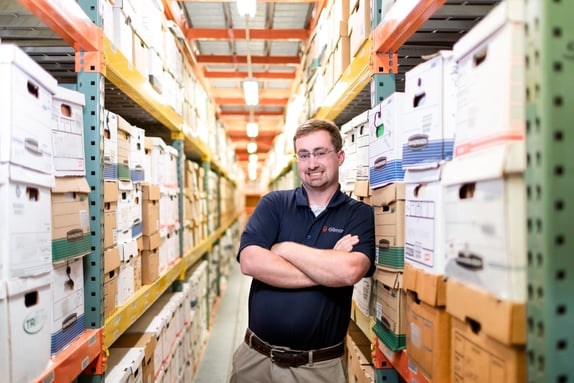 Workers in a commercial warehouse don't have only their customers' products to worry about – they also have to worry about best practices for data security. Commercial warehousing has a lot of paper and digital data, including client and customer information and product information. Your employees are your first line of security, so they must have proper training in best practices for commercial warehousing data security.
Commercial Warehousing Targets for Hackers
No matter the size of your company, you need to ensure you follow the best practices for data security for commercial warehousing. Cybercriminals often target smaller operations as they think the smaller operations won't have as many business controls and are easier to breach.
Even with the best security software and office policies, you could be hacked. All it takes is an employee who shares company information on his or her smartphone or clicks a phishing or otherwise corrupt link while surfing the internet on your computer network.
When you educate yourself and your employees about cybersecurity best practices, you can significantly reduce the risk of a data breach.
X Cybersecurity Best Practices for Commercial Warehousing
Some of the general best practices include abiding by company rules, asking for help if you think something is suspicious, and being careful while online, especially on a work computer or work phone that is hooked to the network.
1. Employee Training for Commercial Warehousing
Whether you provide in-house training or send your employees out, you need training for new employees and ongoing training for current employees. Every commercial warehousing operation should have a written security policy that employees must sign off on. Always track all employee training to ensure everyone completes the training and for documentation in the event of a data breach.
2. Use Data Breach Alerts
Commercial warehouses often have people accessing data remotely. That increases the risk of a data breach. The sooner you learn of a breach, the quicker you can mitigate the damage. You should create a breach alert that notifies you of a data breach so you can immediately figure out where the breach occurred and stop the data loss. It will also show where your system is weak so you can increase security in that area.
3. Strong Password Protection
While it might be quicker and easier for you and your employees to remember short passwords, you should create longer, more complex passwords to make it more difficult for hackers to determine your password. A strong password has at least 10 characters. It includes letters, numbers, lowercase and capital letters, and symbols. It should not be a word you can find in the dictionary.
You should also use two-factor authentication for all login prompts and change passwords every 60 to 90 days.
4. Third-Party Controls
Often, a data breach starts within the company. You can minimize the risk of an employee stealing data or mistakenly creating a data breach by limiting access to data. If an employee doesn't need access to certain data for his or her job, then the employee should not have access to it. You can password-protect files on a computer or lock an employee out of the network if his job doesn't require access.
If you have third parties that must access your data, be sure to limit them to only the data they need by implementing strong passwords on protected areas of the computer / hard drive. Always deactivate employees and third parties as soon as they are laid off, fired, or quit.
Contact Gilmore
For more information on commercial warehousing, contact Gilmore today.