Small Business Emergency Loan Document Management Tips
Mon, Jun 08, 2020
By: Jim Beran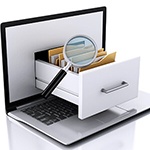 Small businesses have been hit hard by the mandatory closures and changes mandated during the COVID-19 pandemic. One way to get relief is to apply for an emergency loan as provided for in the CARES Act.
Of course, applying for a loan means gathering and creating documents that contain your most valuable data – and it's important to protect them. At Gilmore Services, we understand because we work with our clients every day to protect their business information.
With that in mind, here are our best emergency loan document management tips to help you.
Gather Necessary Paperwork
The first step is applying for a loan. For that, you'll need to gather information and paperwork, including:
An application for a Payroll Protection Program loan or an Economic Injury Disaster Loan, or both
Information about your company, including your EIN, the names of all officers, and the amount of your payroll
Information about any existing EIDL or other government loans
You'll need this information to apply.
Track All Responses and Updates
You're likely to receive written and electronic communication from the government as your loan application is processed. You should plan on retaining everything you receive.
It's a good idea to create a folder on your computer to keep everything organized. Any documents you save should be given unique names that allow you to identify them easily. That way, you won't waste time searching for what you need.
Create Images of Paper Documents
Storing paper documents can be risky, but you may need to keep some if you're required to have an original document. Even though the Supreme Court has ruled that emailed documents may be used as originals, you may want to retain your originals for some period.
That said, your paper documents should be professionally imaged to ensure that they are safe. Paper documents can be damaged or lost. Storing them securely in the cloud means you'll be able to access them when you need to, and you won't need to worry about water, fire, or pest damage.
Gilmore Services offers reliable document imaging and retention services to help you preserve your loan documents.
Limit Access to Your Loan Documents
Because your loan documents contain confidential information, including details about your payroll, it's important to store them securely and limit access to authorized personnel.
Controlling access is another reason that storing paper documents is not the most secure option, particularly if you store them on site.
If you do feel that you must retain paper documents, keep them in a locked drawer or cabinet and don't give the key to anyone who isn't authorized to access them.
Create a Loan Document Retention Schedule
One of the most important things you'll need to do to manage your emergency loan documents is to create a loan document retention schedule. Here are some pointers.
You'll need to keep the loan application and copies of any attached information for the life of your loan.
The same is true of documents issued by the SBA, federal, or state governments documenting the loan. You should keep them until the loan has been repaid in full, and you may want to keep it forever.
Retain documentation of all loan payments, whether it's in the form of a check copy or a receipt. You must be able to prove that you have made all necessary payments.
When your loan has been paid in full, you will receive a certificate showing that it has been paid. You should retain this document for a minimum of seven years, but our recommendation is to keep it forever.
You should consider partnering with an experienced document management company for the imaging, storing, and destruction of your loan documents.
Conclusion
If you're applying for an EIDL or a PPP loan, it's essential to take document management and storage seriously. Focusing on secure storage and proper document retention and destruction will protect you and your company.
Do you need a partner to help you manage your emergency loan documents? Click here to learn how Gilmore can help!