Top 5 Reasons to Store Your Business Documents Offsite
Tue, Dec 11, 2018
By: Steve Clopton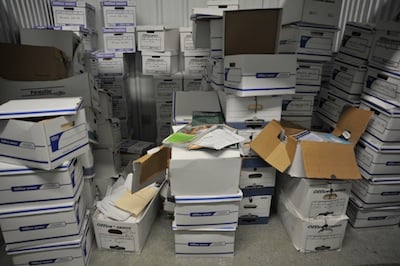 Storing business documents is a concern for every company. Without proper storage, you run the risk of misplacing documents or losing them to water damage and other environmental hazards. And, if your company stores financial or health records, improper storage can lead to regulatory infractions.
One of the most common questions we get at Gilmore Services is this:
Why should I store my business documents offsite when I can store them myself?
That's a worthwhile question. Here are 5 reasons that you should store your business documents offsite.
#1: Security
One of the most important requirements of regulations such as HIPAA, FACTA, and Sarbanes-Oxley is that the personal data you store on behalf of your clients must be kept secure. If you store your documents in your office or in a self-storage facility, then they may be vulnerable to improper access or theft.
Partnering with a company like Gilmore Services ensures that your documents are stored in a secure environment where only approved personnel may access them. You won't need to worry that unauthorized people can get to your documents.
#2: Disaster Recovery
Every Florida resident knows that natural disasters can occur at any time. Even if it's not hurricane season, there's a risk that items stored in your office or in a self-storage facility could be damaged by water, heat, or pests.
When disaster strikes, the safest place for your documents is in a facility that's been constructed to protect them. We do not store hazardous materials, only paper documents and files. That means there's no real risk of fire damage and our storage system minimizes the chances that you'll lose your documents after a disaster.
#3: Cost
You might think that paying a document storage company to store your documents would be more expensive than storing them yourself. However, that's not the case. Here's why:
If you store documents in your office, you may need to rent a larger space to accommodate them
Self-storage costs are fixed (you pay the same amount even if you don't use the entire space)
You will lose money if your documents are damaged or compromised
You'll spend valuable time to maintain and store the documents
If you break the numbers down, it's less expensive to pay a professional document storage company like Gilmore Services than it is to handle the storage yourself.
#4: File Management
You might think that it would be easy to keep track of documents stored in your office or in a self-storage facility, but the opposite may actually be true. It's possible that someone who lacks the proper training could mislabel a box or forget to label it.
At Gilmore Services, our employees are all trained in important regulations. Every document you store with us will be tracked electronically. That means that you'll be able to prove that you have the documents you're required to maintain at any time. It also makes document retrieval simple.
#5: Record Destruction
Regulations require you to store your business documents for a set period and then destroy them. Document destruction means more than simply shredding documents. You must also properly dispose of electronic records of those files.
If you improperly dispose of documents, you might find that your company is in violation of an important regulation. In the worst case scenario, your data might be compromised because it wasn't shredded and disposed of properly. Partnering with a company that has the expertise to dispose of documents properly will give you peace of mind.
Conclusion
If you want to protect your valuable business documents and stay in compliance with statutory regulations, then offsite document storage is the best way to do it. You'll still have access to your documents when you need them without worrying that they'll be damaged or compromised.
To learn how to store your business documents in one of our secure facilities, please click here now.