Do You Have a Small Business Disaster Recovery Plan?
Wed, Oct 03, 2018
By: Steve Clopton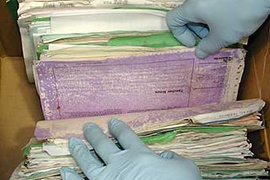 Every small business owner knows that keeping track of essential documents is a must. In the event of a disaster, your ability to access those documents can help you stay in business even if you can't get to your office.
At Gilmore Services, we work closely with our clients to help them create a small business disaster recovery plan that ensures they'll be able to operate after a disaster. Here are some tips to help you make a plan that works for you.
Why You Need a Small Business Disaster Recovery Plan
First, let's talk about why you need a small business disaster recovery plan. Business owners along the Gulf Coast know that natural disasters can be catastrophic. During hurricane season, we all keep an eye on the weather and think about what to do if a hurricane heads our way.
When the streets are flooded, or power is out, business doesn't stop. Your clients depend on you to be there.
Putting a small business disaster recovery plan in place will ensure that you have the important documents you need to keep going. It can also save you money. Our document recovery specialists can often save documents that have been damaged in a disaster. However, it's far less costly to safeguard them before they are damaged.
A major business disruption can cost your company thousands of dollars. Even your most loyal clients may leave if you aren't there to serve their needs. Putting a small business disaster recovery plan in place is one of the best ways to ensure that a natural disaster doesn't turn into a business disaster, too.
Steps to Create a Small Business Disaster Recovery Plan
Now, let's talk about the steps you can follow to create a small business disaster recovery plan.
First, create a checklist of the areas that require your attention, including data, employees, communications, operations, and safety.
Set up an emergency response plan, specifying whose responsibility it is to notify employees and clients of essential news.
Look at your company's critical business functions and determine what you need to do to protect them. That might mean switching to software-as-a-service, imaging essential documents, and creating off-site backups for critical data.
Create a data backup and disaster recovery system and test it to ensure that you have backups of your data if you need them.
Document your equipment and store the information someplace safe. That means taking photos or video of your equipment, whether it's rented or leased. You should also keep a list of model numbers and serial numbers, as well as phone numbers and web addresses for manufacturers and insurance companies.
Keep basic first-aid and disaster supplies on site so you can assist your employees and clients who may need help.
Partner with a document imaging and storage company like Gilmore Services to ensure that your essential documents are preserved and accessible even if your office is destroyed or inaccessible.
Conduct a full disaster recovery test to make sure that your communications plan and other contingencies work as you intend them to and that all employees know what they need to do if a disaster occurs.
After your test, revisit your plan if necessary. Your goal should be to foolproof your plan as much as possible. When a disaster strikes, people tend to panic. Testing your plan ahead of time will help you catch potential problems and fine-tune your plan.
In the wake of a disaster, you may also need to work with a document recovery team if you have documents that have not yet been imaged or backed up electronically. At Gilmore Services, we offer recovery services that offer you the best chance of salvaging damaged papers and documents.
Conclusion
Having a small business disaster recovery plan is a must for every business, especially those in Florida where hurricanes are an annual occurrence.
To learn how Gilmore Services can help you protect your most important documents, please click here.