What's The Right Shredding Service For My Company? One-time or Ongoing
Tue, Nov 03, 2020
By: Steve Clopton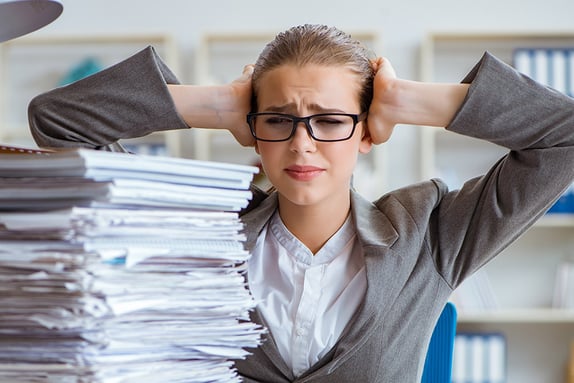 Smaller businesses often forego retaining a shredding company because they believe they do not have enough paper or digital media to shred. Gilmore Services provides shredding services for small and large companies by offering one-time purge shredding and ongoing shredding.
Keeping your documents out of the hands of identity thieves is one of the most important trust issues you have with customers. If you can show them that you have excellent document security, you have another level of trust for your brand.
One Time Shredding Service
Businesses that do not produce a large amount of paper – usually those with less than 5 employees – often take the chance of shedding their documents themselves. However, you have to pay a trusted employee to take the time to shred documents.
Using a shredder, you get from an office supply store takes time, especially if you use a cross-cut shredder. And, you have the chance that employees could let information on those documents get into someone else's hands.
One-time shredding service has a low minimum. You can have us shred a little as a pound of paper up to as much as you want. Whether you purge your files once every year or you keep the old documents and files in a box – preferably locked in a locked filing room, you can benefit from one-time shredding.
Once your documents are shredded, you'll receive a certificate of destruction.
In addition to paper documents, we can also destroy hard drives, USB drives, and other digital media that contain confidential information for hard-drive destruction.
Ongoing Shredding Service
Whether you need shredding services every couple of months, or on a monthly or weekly basis, our ongoing shredding service is designed to keep documents with confidential information safe from prying eyes.
We provide locking containers for you to store files and documents that are no longer needed. Keeping them in a locked file room doubles the security. When you no longer need a file, just drop it into one of our locked containers and forget about it.
We'll come out at the regularly scheduled time to empty the locked container(s) into our shredding truck. Once the documents are shredded, you'll receive a certificate of destruction.
While any type of business benefits from having a regularly scheduled document shredding and the locked container(s), ongoing shredding service for business is popular with attorneys, doctors, accountants, and financial institutions.
Additional Benefits of Onsite Shredding
Whether you choose our ongoing shredding service or our one-time shredding service, you do not have to worry about removing staples or paper clips. The shredders on our trucks are capable of handling those small bits of metal.
Other benefits of onsite shredding include:
Keep confidential documents away from prying eyes;

You won't have to pay an employee to do mindless work;

Your customers will better trust your brand when they know that a professional shredding company shreds unneeded confidential information; and

You mitigate any fines your company might have because you – even inadvertently – let documents get into the hands of an identity thief.
Contact Gilmore Services for more information about our one-time shredding services or our ongoing shredding services.