Secure Document Storage: A Step-by-Step How To
Wed, Jun 28, 2023
By: Steve Clopton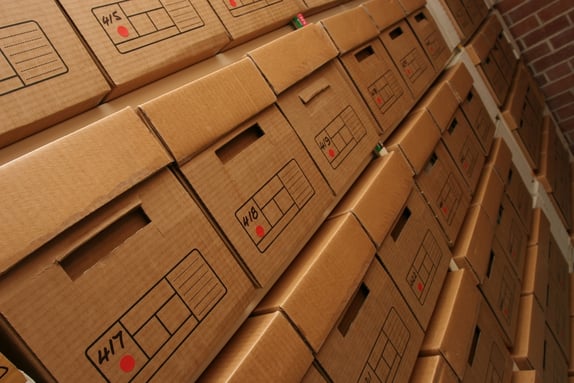 Whether you are an employee or a CEO, you need to know how to keep your customer's information safe. Most companies now have extensive cybersecurity policies for everyone to follow, but it's still imperative that you stay aware of security breaches. Employees could go rogue, or customers and patients could lift documents off desks. Employees could err by inadvertently sharing sensitive information or clicking on links that are viruses or keyloggers.
Secure document storage doesn't stop with paper documents, nor does it stop with digital copies. Your business must take steps to protect any sensitive information, regardless of which form it takes. One factor that is standard for physical and digital sensitive information is to ensure all employees have ongoing training regarding security practices.
Secure Document Storage for Physical Documents
Employees should have onboard training regarding secure document storage, including not leaving documents in plain sight while not at their desks. Additionally:
1. Contact Gilmore to set up a document shredding schedule and order locked shred boxes. We will work with you to determine how often we should come out with our mobile shred truck to empty the locked shred boxes.
2. Keep documents in files when not working on them and they are out of the filing cabinet. Never leave files on your desk when you are not at your desk.
3. Scan documents to a secure cloud account. Gilmore provides scanning services so you can access digital copies of your documents whenever needed. You'll be able to access the files and documents any time of day or night from any device.
4. Add a retention date to each document or file. For example, most law firms must keep files for at least seven years unless the documents are estate planning documents or certain tax documents, which should be kept indefinitely.
5. Keep active files in locked filing cabinets in a locked filing room. Most filing cabinets are easy to break into, so keeping them in a locked filing room adds another layer of protection and can help you avoid fines should someone break in and steal documents.
6. When a file is no longer active, but you must still retain it, store it at Gilmore's climate-controlled storage facility.
7. When a file reaches its retention date, and the customer, client or patient does not want it, store it in a locked shred box from Gilmore.
8. Allow Gilmore access to the locked shred boxes (kept in a locked filing room) so it can shred the documents and give you a certificate of completion and the empty shred boxes to fill again.
Secure Document Storage for Digital Documents
Onboard and ongoing training for digital documents is also necessary, as an employee could click on a link in an email and infect the entire network with a virus that allows hackers to steal digitally stored documents. Additionally:
1. Scan all documents to a secure cloud. Gilmore offers scanning services.
2. Make sure each employee has secure passwords and changes them often.
3. Password-protect folders so that only people who need to access them have access.
4. Always create a backup in the cloud.
5. When digital storage is full or corrupt, always shred it, including hard drives, DVDs, CDs, USB drives and other digital storage mediums. Gilmore Services provides hard drive shredding on its mobile truck.
Contact Gilmore
Whether you need document scanning services, secure document storage services, or shredding services, contact Gilmore to discuss a plan of action today.