Planning for Your Long Distance Move the Right Way
Wed, Feb 11, 2015
By: Jacob Gilmore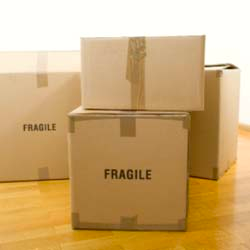 Everyone knows that moving is stressful. There are a million things to worry about, details that need your attention, decisions to make and things that can go wrong. Plus, the physical labor shouldn't be underestimated. It's hard work.
If you're moving long distance, whether to a different state or even a different country, the difficulty only increases. But, it's certainly possible to make even the most complex move successful. More often than not, success starts with proper planning. Here are some great tips for planning your long distance move the right way:
Choose the right moving partner
To make a long distance move as simple and painless as possible, there's no better option than bringing in a certified professional moving company with experience coordinating long distance moves.
For example, Gilmore Services has been specializing in both local and long distance moving since 1955. That experience is reflected in how we train our employees, how we care for your belongings, and how we help you prepare for your move. As the only Pensacola, Florida Wheaton Agent, we have the resources of Wheaton World Wide Moving behind every long distance move we coordinate.
Choosing the right moving partner can make the rest of these steps even easier to handle. In many cases, a moving agent can handle these tasks completely for you.
Pack smart
If you do any of your own packing, be sure to stay organized. It's best to separate at least one box, as your "Vital Needs" box where items you know you want immediate access to the moment you pull into your new driveway can be stored. Use it for important documents, new house keys, a landline telephone if you plan to install one, and any other vital items you won't have in your pocket.
For everything else, label the boxes based on what rooms their contents belong to. To take it a step further, place them in the truck in the order of importance so you can start unpacking and using your most important items even as the move continues.
Square away utilities ahead of time
It's important to set up your utilities (electricity, gas, water, trash pickup, phone, internet, TV) as early as possible to avoid inconveniences and keep last-minute surprises such as fees to a minimum.
When turning off utilities at your current home, be sure to set a specific date and time at which you will no longer need the service functioning. The best option is to set this for the day after you intend to leave. Also, be sure to provide your new address so that any deposits or payment overages due to you after service is completed can be mailed to your new home.
Similarly, contact the utility companies that will serve your new house and ensure that all installation and other arrangements are scheduled before you arrive or immediately after your arrival to keep the period without service to a minimum. Be sure you are aware of any and all installation fees or deposits involved with starting up the new services.
Prep the new home
Although you may have limited control over this, make sure the new home is prepared for occupancy to the extent that you can. If you are working through a real estate agent, for instance, they may be able to help coordinate cleaning, landscaping, minor repair work, and other odds and ends prior to your arrival that will make your new house more of a home.
Plan for traveling with pets and children
Traveling long distances with pets and children can be challenging. Be sure to plan out your trip with plenty of room for breaks, rest stops, adequate meals, and maybe even some fun diversions along the way. This will help make sure everyone is as relaxed and refreshed as possible when you arrive at your new home.
There are many variables to consider for a long distance move, but these few tips can help streamline the process. Most importantly, rely on your certified residential moving company and take advantage of any information and resources they can provide you to make your long distance move a success!