Office Consolidation Document Storage Tips
Fri, Jun 12, 2020
By: Steve Clopton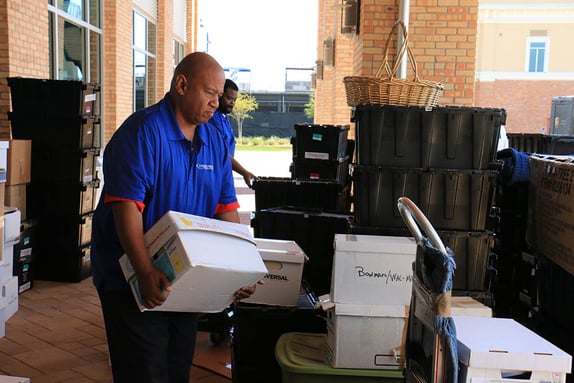 The new reality created by the COVID-19 pandemic has led many businesses to embrace the idea of employees working remotely. As the crisis continues, we expect to see more business consolidating their workspace to reduce overhead expenses.
At Gilmore Services, we have extensive experience working with business clients as they move or downsize their offices. Here are some office consolidation document storage tips to help you if you're in the market for a smaller office space.
Take Inventory of Your Documents
It's common for businesses to accumulate reams of paper over time. Likewise, if your company isn't bound to document destruction regulations such as those specified by HIPAA, then you might not prioritize destruction.
The result can be an unwieldy collection of paper, which makes this first step essential. Go through what you have and figure out what you need to keep and what can be destroyed before you move.
Review Regulatory Requirements
One of the biggest factors in document retention and destruction is adherence to regulatory requirements for HIPAA, FACTA, and Sarbanes-Oxley. If you collect and store financial information or personal health information on behalf of clients, then you will need to make sure that documents are stored and destroyed accordingly.
Even if your company isn't bound by regulatory requirements, you should still review the guidelines for how long to retain documents. For example, tax documents should be kept for seven years and loan documents should be kept for (at least) the term of the loan.
Create a Document Destruction Schedule
Once you have a handle on your business documents and your regulatory responsibilities, the next step is to create a document retention and destruction schedule. Here are some pointers:
Collect any documents that are past their appropriate destruction date and make plans to destroy them. Keep in mind that a commercial shredding machine might not be up to regulatory standards.
Make notes and schedule destruction for any documents you must keep.
Organize the documents you are keeping and prepare them for storage.
The important thing here is to create a schedule that allows you to add new documents are they are created. It's a lot easier to add a few documents at a time than it is to be stuck with a massive backlog.
Consider Off-Site or Cloud Storage
In most offices, space is at a premium. Even if that wasn't the case in your old office, downsizing may force you to consider alternatives for storing and managing your important business documents.
Two options that offer a solution are:
Storing your documents off-site with an experienced records management company; or
Having your documents imaged and put into secure cloud storage.
Cloud storage may be what many companies turn to as more employees work from home. Why? Because cloud storage can make collaboration and project management easy, as every member of your team will be able to access documents from their homes.
Partner with a NAID-Certified Record Management Company
While it's certainly possible to destroy records yourself, we recommend against it. If you store personal financial information or medical information for your clients, it's your responsibility to ensure that those items are properly destroyed.
Gilmore Services is NAID certified, which means we have submitted to rigorous certification and auditing to ensure our compliance with NAID standards. We use state-of-the-art, Department of Defense-approved destruction methods that ensure your data is unrecoverable after it is destroyed.
Conclusion
Consolidating your office space and documents is a good way to reduce your overhead expenses and meet the challenges of the COVID-19 pandemic. The tips we have included here will help you maintain and destroy your sensitive documents safely.
Need help consolidating your document storage? Click here to learn how Gilmore Services can help!