New Year, New Office? Get Ready with Gilmore
Mon, Dec 20, 2021
By: Steve Clopton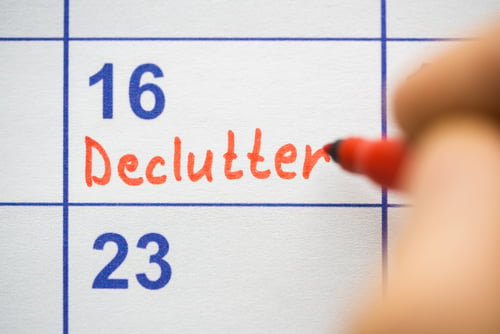 If you are starting a new job working from a home office, you need to get the office ready before the first day of work. Being prepared is the best way to start and be successful in a new venture. Part of getting ready – other than furnishing the office – is to organize the services you will need, including document shredding. An office deals with many documents and digital media that contain others' private information.
Declutter Your Home or Office
If you are using an office that has already been set up – maybe you are changing employers, or perhaps you are starting working in a new office for an employer – you need to declutter the office. If you are working for an employer, it might have shredding services, document scanning, and document storage already set up. If not, it is a good suggestion for you to make.
If you are creating a brand new office to work for your clients, one of the most important services you should set up is scanning and storing documents and document destruction.
When you receive documents, scanning them allows you to have an easily accessible digital copy so that you can keep the original paper document safe in storage. The storage might be a filing cabinet in your office for active files, or it might be in our warehouse because you use our storage solutions.
You should also set up a retention schedule so that you know when it's time to get rid of documents. As always, check with the client first to see if the client wants his or her file. If not, shredding it is the best way to protect the information in the file. You can choose one of several methods for document destruction, including pick up shredding, mobile shredding, or drop off shredding.
The method you choose depends on how many documents and / or files expire during a certain period of time – a week, a month, quarterly, or yearly. If you have enough paper that you need to destroy more than twice a year, scheduled on-site shredding might be the best course of action.
Records Management with Gilmore
When you choose Gilmore for document destruction, you can choose mobile shredding, where we bring our shredding truck to your office and destroy documents you put into locked shred boxes.
You also have the choice of off-site shredding. We can pick up the documents and bring them to our office, or you can drop them off at our office. Pick-up services or good if you have too many documents to bring to us but not enough to warrant scheduled services. Drop-off services are good if you have a banker's box or two of files and documents to dispose of every six months.
Document shredding allows you to keep filing cabinets organized, and it also prevents an identity thief from grabbing older documents should he or she break into your office.
Contact Gilmore
When setting up a new office or starting a new year, declutter the office by creating a retention schedule and getting rid of all old files that you are no longer obligated to keep. Contact Gilmore to discuss the best document destruction services to keep client data safe.