How to Create Your Legal Document Management Plan in Just 13 Minutes
Wed, Mar 23, 2016
By: Jim Beran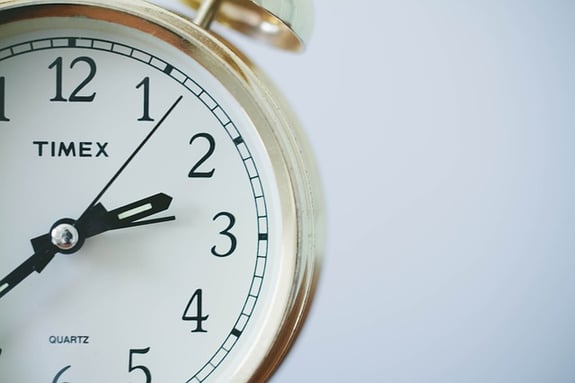 There are a thousand different things a business owner or office manager needs to think about every day. While legal document management is extremely important, it's not something you want to have to worry about among other urgent matters. And it's certainly not something you can afford to spend hours or days figuring out.
Don't worry. We have you covered.
Your 13-Minute Document Management Plan
If you can set aside just 13 minutes this week, you can walk away with a brand new, highly effective document management plan that can keep your business organized and compliant while saving valuable time and money.
Step One: Take stock of the current situation (3 minutes)
It shouldn't take long to figure out how things are going right now as far as your business records management. You probably have a pretty accurate gut feeling about whether it's working or not. But take the next three minutes to answer the following questions with a simple "Yes" or "No".
Do you keep all your vital business records and archives on site?

Is the file room (or whatever system you use for paper records) neat and organized?

Is the file room prepared for threats like theft, natural disasters, and other damage?

Do you maintain electronic records as well?

If so, are they secure from hackers and identity thieves?

Is your team spending an inordinate amount of time filing or retrieving records?
Two more questions to consider before moving on:
How much money might you lose if your records ended up in the wrong hands?

How much money might you gain if your team didn't have to worry about filing or retrieving files anymore?
Step Two: Learn the current legal compliance requirements for your documents (2 minutes)
Normally, this step of the process would probably take a bit longer than two minutes, but we have a shortcut for you.
See our Guide to Business Records Compliance and follow a simple flowchart method to determine which compliance requirements you need to know and what aspects of your document management plan must comply.
If one or more of the acronyms in the guide is unfamiliar to you and you think your company may need to comply, be sure to first contact your attorney or accountant for a definite answer. Once you're ready, move on to step three.
Step Three: Map out your document flow (6 minutes)
The main goal of this step is to make sure you understand exactly where your records are at every step of their lifecycle.
Here are some points you'll need to consider as you think about this:
When is a record created, and who is responsible for it at that point?

How is the record stored while it is in active use? (i.e. does a customer file remain digital while their project is in process, then printed and filed?)

Which portions of digital records are printed for filing and which remain digital indefinitely?

Who is responsible for ensuring that physical documents are filed routinely? (Is this centralized, or are there multiple people responsible for filing their own records?)

What process is in place - if any - to ensure records are kept as long as legally necessary, but are disposed of after their lifecycle ends? How routinely is this done?

How is sensitive

document destruction handled?
For a busy office with multiple types of records being generated daily, this part can get cumbersome and complicated. It's important, though, because it helps clearly identify gaps in your current process that could be wasting time and money, or even leaving you exposed to potential legal risks or losses as a result.
Step Four: Contact a professional records management company (2 minutes)
The fact is, if you've made it this far down in this article, and you've followed the instructions in the first three steps, it's because you know document management and secure document destruction is very important.
Your company's records management program is often not properly carried out with a DIY method alone. To find out more ways to keep your business protected, organized and compliant, contact us to speak with a records management professional.