How Much More Secure Can Offsite Document Storage and Destruction Get?
Wed, Jul 15, 2015
By: Jim Beran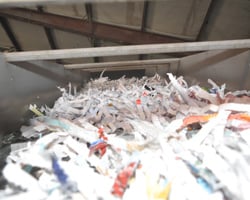 Many records management companies tout the benefits of professional document management including offsite document storage and destruction services. One of the key benefits is the fact that customers' sensitive information is guaranteed to be safe and secure in their hands.
At Gilmore Services, our main goal is always to keep businesses across Northwest Florida and Alabama protected with secure document storage, document imaging services and paper and hard drive destruction.
One way our document management company and others ensure the security of business' information, is by maintaining a NAID AAA certification. This certification ensures that the facility and staff have met, and will continue to meet, the high standard for security set by the National Association for Information Destruction.
Can offsite document storage and destruction become even more secure?
As regulatory compliance involving data protection constantly evolves, so does the legal and financial consequences of failure to comply. One of the main liability concerns businesses face is having to take on the responsibility of a data breach. Even though a business is entrusting a records management company to handle their information, the customer is often responsible for issues related to mishandled information like a data breach.
While records management companies maintain insurance coverage to help protect their business and their customers, many of these plans do not adequately address the unique risks that are associated with information handling.
A new type of coverage for a new level of security
To fill this gap and provide the highest protection for businesses outsourcing records management, is a new type of liability insurance coverage developed with the data storage and destruction industry in mind. Developed by the National Association for Information Destruction, here is how this policy is described:
"When NAID first learned that many policies contained loopholes that rendered them useless, it started what turned out to be a 4 year project to put together a product that would provide real protections to it members. Together with certain syndicates at Lloyd's and Association Insurance Management, NAID helped to create Downstream Data Coverage."
With Downstream Data Coverage, records management companies can guarantee that everything that occurs with a customer's information is covered.
Does your records management service offer Downstream Data Coverage?
Not only does this improved level of security keep your business protected, it can also offer a competitive advantage. That's because only vendors subject to the security specifications and audits of the NAID AAA Certification process are eligible for Downstream Data Coverage. This means businesses can be assured that only the most secure records management companies are available to provide this level of coverage.
If you'd like to know what this type of security can do for your business, contact us to discuss your document storage and destruction needs and learn these 3 Signs Your Records Storage and Destruction Schedules are Out of Sync.