How Hard Drive Destruction Can Help You Remain Compliant
Wed, Aug 12, 2015
By: Jacob Gilmore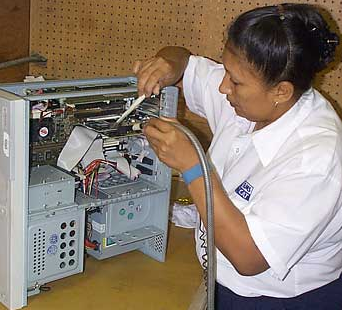 High tech equipment can be relatively inexpensive these days, and far more people know how to use it than did just a few years ago. That's why identity theft and many other types of privacy crimes have become so commonplace: the information is widely available and some security measures aren't consistently up to the task of keeping sensitive information safe.
A perfect example of this issue is the disposal of your computer's hard drive.
Most people still think that once they're done with their computer and they're ready for an upgrade, all they need to do is hit "delete" on any sensitive files they've saved and throw it in the garbage. But this couldn't be further from the truth.
It's actually fairly simple for a criminal with inexpensive of software on his own computer to pull your hard drive out of your dumpster and retrieve all the things you thought you deleted.
This is a cause for concern for any business, but especially those businesses required to comply with local, state, and federal privacy regulations. For those businesses, throwing out a hard drive leaves them exposed to tremendous risk of non-compliance and even criminal negligence.
How to properly dispose of your hard drive and remain compliant
There is, however, a guaranteed method of properly disposing of your hard drives or any other digital media that contains (or contained) sensitive information. It's generally referred to as hard destruction, but it's actually a multi-step process that ensures complete compliance with the laws regulating sensitive information, and offers a convenient and cost-effective alternative to trying to handle the situation on your own.
Here's how Gilmore Services handles hard drive destruction:
A secure mobile unit comes to your place of business
Trained staff members, who have been screened and passed rigorous background checks to ensure security, collect all media to be destroyed, such as hard drives, cell phones, CDs, and DVDs
The serial number of every hard drive is documented and each disc is degaussed to erase everything beyond the possibility of recovery
Drives are physically destroyed, rendering the media completely inoperable
You receive a NAID Certified Certificate of Destruction proving you've complied with all appropriate regulations
Every step in this process serves as a protection for your business. That's because there's no possibility of tracing back a damaging data breach to your company if you have a Certificate of Destruction on file proving that every hard drive or other media in your possession was properly destroyed.
Is your business ready for hard drive or other media destruction? Contact us today to find out more information about our hard drive destruction and download our free guide below to securing your business documents.