Your Practical Document Management Guide For National Clean Out Your Computer Day
Mon, Feb 12, 2018
By: Jim Beran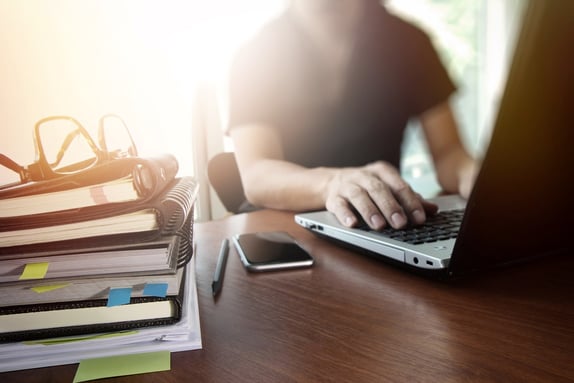 You swear you saved that .GIF to your hard drive for a reason — you know, that one of the cat playing checkers — but newly refreshed in the New Year you just can't remember why.
Let's face it: all of our computers could use some housekeeping. Between impulse downloads, superfluous applications, and unidentifiable files, there is hardly enough hard drive space for actual work anymore. Well, you're not alone — for all the hard drive hoarders and computer clutterers: your time has come. The second Monday of February is National Clean Out Your Computer Day.
Not only is an over-capacity hard drive a major nuisance, but, more importantly, a disorganized computer is susceptible to security breaches and retention scheduling lapses. It's about time you got your hands dirty cleaning up your computer — here's how.
DIY hard drive cleanup
Just like cleaning a house, try starting with the big ticket items. Software and applications take up significant hard drive real estate, so during a cleanup you need to identify application essentials and then ditch the rest. While it might seem counterproductive, there are applications — such as Should I Remove It — which will perform an audit and return value estimations of all computer applications by providing curated usage data.
Time to reformat?
Formatting — meaning erasing everything from a hard drive — can be a scary prospect for techno-phobic professionals, but it's actually a viable and safe way to improve computer performance. Your hard drive is probably bogged down by malware, registry errors, fragmented files, or any number of things, so at a point it might make sense to start anew. Speak with an IT professional about your options for a high performing computer that will properly store necessary information.
Hardware destruction
Sometimes you just have to let go. Computer hardware is not designed to last forever, and at a point it's time to say goodbye. Be aware that when computer hardware is over the hill it cannot simply go into the trash — not only does that put sensitive information at risk but it is also harmful to the environment.
Professional hard drive and data destruction services ensure that physical property is destroyed securely and responsibly. Professionally dispose of electronic storage devices such as hard drives, CD's, computer backup tapes, flash drives, and more to ensure sensitive information doesn't get into the wrong hands. Plus, hardware can be recycled — reducing the environmental impact of heavy metals contained within monitors, computers, keyboards and other electronics.
How to backup files
There are secure ways to store important files both locally and in the cloud:
Local storage — Save files to an external drive or disk. Files can be easily transferred to a fresh operating system install by inserting the external storage and copying files to the clean hard drive. For businesses looking to digitize and back up records, local document imaging services can help keep digital information organized on secure devices such as a CD or USB.

Cloud storage — Store important files in the cloud and access them online remotely. Again your local records management partner can help you store digital information in a secure online portal for easy, remote access.
Electronic document backup and storage is easier said than done. With sensitive data such as professional and client files at stake, you want to be sure electronic documents are secure. If you need a little extra help with electronic document backup and storage during National Clean Out Your Computer Day, our digital document storage team at Gilmore Services is here to help.
The Gilmore Services cloud storage system allows any business to create an efficient and compliant cloud-based storage and records management plan.
Gilmore Services is a trusted partner in hardware destruction and document management. Contact Gilmore Services to learn more about computer hardware destruction, cloud storage and electronic document management.