Getting Move-In Ready: 6 Steps to Take Before Your Next Big Move
Wed, Apr 13, 2016
By: Jacob Gilmore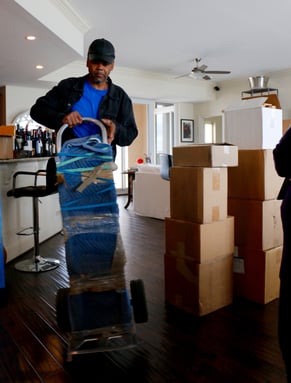 There is no one-size-fits-all moving process. For example, the needs of a senior citizen downsizing into a retirement home are drastically different than a high school graduate moving into a college dorm. Different stages in life require specific moving requirements and demands.
As we get older, our responsibilities and priorities change, and we tend to accumulate more things. Young adults go from packing up a suitcase and living a life of spontaneity, to living a life of structure. Over time, families grow and acquire heirlooms and personal additions that hold certain sentimental memories. When the next big move arises, renting a U-Haul and bribing friends with pizza to help with the heavy lifting does not guarantee a safe and efficient environment for transporting valuable possessions. Often, looking into residential moving companies becomes essential.
Getting move-in ready doesn't need to be difficult, and we've broken it down into 6 steps to take before your next big move.
1. Schedule an Estimate
So, you know you're going to move. Do you have a date? Whether or not the date is set, scheduling an estimate with a residential moving company will help to get the ball rolling.
2. The Walk Through
Once you've scheduled your estimate, the next phase is to walk through your home with the moving company consultant. Although you may still be figuring out details, this is a great opportunity to get an idea of the volume, weight, and equipment involved in your move. Be sure to mention any possessions that involve more care and attention. The consultant will make detailed notes to make sure your delicate and special items are accomodated.
3. Keep, Store, Leave, or Toss
As you're walking through with the consultant, you may realize there are things that will not be packed. If you're planning on leaving appliances, or planning on having a yard sale to get rid of old items, let the moving consultant know. This will keep the weight of your shipment down as well as the overall cost.
4. Have a Q&A
Once you have finished the walk through, make sure to sit down for a quick Q&A. Is everything accounted for? Is anything missing? Review the consultant's notes and reiterate anything that may have been overlooked. Before you part ways, make sure that your needs has been clearly communicated.
5. Review Estimate
Once the quote is ready (tip: anticipate at least 48 hours), review the details and the price. Is it within your budget? Maybe there have been changes or adjustments since the initial estimate. If so, give the consultant a call and discuss making changes to your file.
6. Book Your Move
You've gone through all of the necessary steps, now it's time to book your move. Feel confident knowing that a certified, reputable moving company is going to move your family and your home safely to your new location.
Moving to embark on new beginnings can be emotionally stressful and difficult. Instead of feeling overwhelmed and unsure of what to do first, follow these 6-steps and once they're completed, majority of the busy work is done. Interested in a complimentary estimate for your next big move? Be sure to contact us and we will schedule a meeting.