Do You Know Where Your Paper Goes After Secure Document Shredding?
Wed, Mar 22, 2017
By: Steve Clopton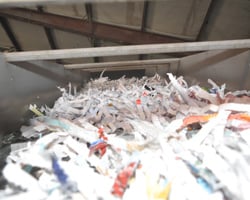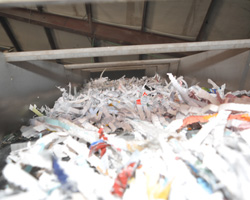 When compared to in-house shredding, secure document destruction saves money, increases security and enhances internal workflows.
Secure document destruction processes maintain the highest levels of security and reduce risk for your company. They also help free up valuable employee time and eliminate wasteful storage space.
But where do your documents go once they're removed from your office? It's a fair and important question. If you partner with a reputable document shredding company, your documents will be safely transported and eventually recycled. Let's take a closer look at the process and the valuable reduction of your company's carbon footprint.
Secure Pick-up & Transportation
Most document destruction services deliver secure bins to your office, where your employees can safely and conveniently dispose of sensitive documents. Depending on your preference, those documents get destroyed on a regular basis either at your office or offsite at a secure facility. If you choose to go with off site document destruction, all information leaves your office in a GPS monitored vehicle.
With either option, the destroyed documents are safely recycled. In fact, if your document destruction partner is NAID Certified, they are contractually obligated to send the shredded paper to a paper mill for recycling.
Paper Recycling
Your business - big or small - represents a part of the significant paper consumption of U.S. companies. All told, 4.5 million tons of office paper is thrown away each year in the United States. That's enough paper to build a 12-foot high wall of paper from Los Angeles to New York City. But shredding and recycling your paper can help cut down on some of this unnecessary waste.
When shredded paper gets recycled, it's shipped to the paper mill in large 1,500-to-1,800-pound bales. From there, the vast majority - as much as 95% - of destroyed office paper is recycled into tissue products like paper towels.
Environmentally Conscious Business Practices
Since environmental business practices are a great way to delight your customers, paper recycling is another step you can take to demonstrate your commitment to reducing your company's carbon footprint. More specifically, every 2,000 pounds of recycled paper can save:
4,100 kWh of energy
9 barrels (380 gallons) of oil
54 million Btu's of energy
3.3 cubic yards of landfill space
60 pounds of air pollutants being released
7,000 gallons of water
17 trees
At Gilmore Services, we understand the importance of thorough document destruction. Our NAID-certified service ensures your documents are securely destroyed, transported and recycled. We offer multiple options for cost-effective paper shredding and disintegration of other material for customers based on their location, budget and volume.
Learn more about how the experienced and certified team at Gilmore Services can provide document shredding services for your business. Download our guide on secure shredding bins to discover which is right for your company. Have questions? We're here to help, simply contact our shredding experts today.