COVID 19: Moving Tips for Couples
Thu, Jun 18, 2020
By: Patrina Sykes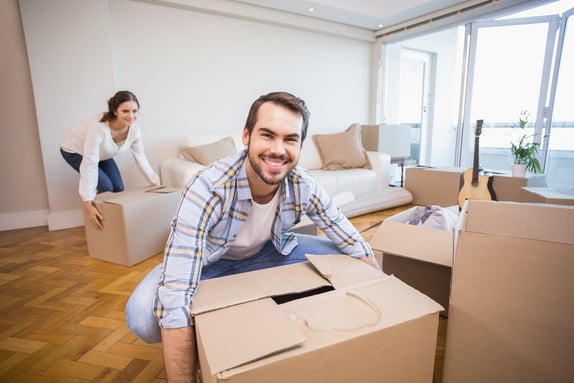 The COVID-19 pandemic has led to some couples deciding to quarantine together. That makes sense from the standpoint of companionship during what would otherwise be a lonely time, but it also represents some challenges.
If you're considering making your quarantine arrangements permanent, it's essential to keep your safety in mind. Here are some moving tips for couples to help you.
Make Sure You're Ready to Move in Together
The first step is to ask yourself if this is the right time to move in together. The COVID-19 pandemic and resultant stay-at-home orders have stressed many relationships. If you've weathered the stress well as a couple, then you will probably be able to handle permanent cohabitation.
If, on the other hand, your relationship has been strained by quarantining together, it may be a sign that a permanent move isn't a good idea.
Hire a Moving Company
Hiring a moving company can remove a lot of the stress from moving because you'll know that your possessions are in experienced hands. In Florida, moving and storage companies have been classified as essential businesses during the pandemic.
Make sure that before you hire a company, you ask about the precautions they're taking to protect your safety and the safety of their employees. The company you hire should be cleaning their trucks completely and requiring employees to wear protective equipment, including masks.
Also, read the moving company's cancellation policy. Most moving contracts are non-binding, which means you should be able to cancel. However, you might lose a deposit if you cancel close to your moving date.
Take an Inventory of Your Belongings
When to adults move in together, it's a good idea to inventory your belongings and get rid of thing you don't need or won't use. For example, you probably each have:
Dishes
Cookware
Utensils
Basic furniture, such as beds, chairs, tables, and sofas
Unless you can afford to rent a huge place with room for everything, you can either sell or donate your belongings before you move. Keep in mind that many buyers may want proof that the items you're selling have been cleaned and disinfected before they pay you.
Buy New Supplies
According to the CDC, the COVID-19 virus can live on cardboard for up to 24 hours. That means this isn't a good time to pick up moving supplies on Freecycle. If you already have moving supplies in your home, you can use those. Anything else you need should be purchased new.
The best practice is to buy your supplies in one shopping trip. Gilmore Services sells a full line of packing and moving materials at affordable prices.
Disclose COVID-19 Symptoms
As your moving date approaches, you'll need to be transparent with your moving company about any COVID-19 symptoms you or your partner are experiencing. The moving company must have the right to cancel to protect its employees.
Even if you have no symptoms, you should plan on wearing a mask and practicing social distancing from the movers as much as possible.
Clean and Disinfect
The last thing you'll need to do is clean and disinfect everything. You can clean your belongings as you pack them, which will minimize the cleaning you need to do in your new home. You should also give the place you're leaving a deep cleaning or hire a cleaning service to do it for you.
Before you move anything into your new space, you should clean that, too. It will be much easier to clean and disinfect if you do it ahead of your move. If your new landlord promises to deep clean the apartment before you move in – which they may – double check it to make sure it's been cleaned.
Finally, make sure to provide cleaning and sanitation products for the movers. For example, you should have soap and paper towels at the sink in your current and new place. You may also want to provide hand sanitizer.
Conclusion
There are some challenges involved with moving during the COVID-19 pandemic but they're not insurmountable. The moving tips for couples here will help you make the transition to living together an easy one.
Need assistance with your move? Click here to learn how Gilmore Services can help!