What are the Consequences of Improper Data Destruction?
Thu, Sep 19, 2019
By: Jim Beran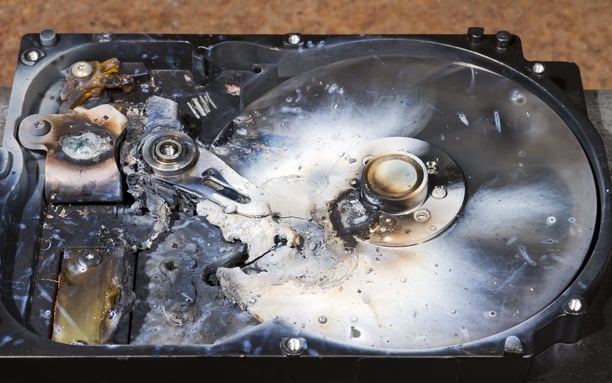 Data destruction is in the news frequently – and for good reason! It seems that hardly a month goes by without a new story about a major data breach. In some cases, these breaches are the result of poor security. And in others, the issue is improper destruction of data.
At Gilmore Services, we work closely with our business clients to protect their data and minimize the risk that they'll experience a costly breach. One of the questions we hear a lot is this:
What are the potential consequences of improper data destruction?
The truth is that improper data destruction can cost you more than you think. With that in mind, let's look at the most serious consequences – and talk about how proper data destruction practices can help you avoid them.
Regulatory Non-Compliance Fines and Settlements
The first big risk of improper data destruction is that your business will violate the regulatory requirements of statutes such as HIPAA, FACTA, and Sarbanes-Oxley. It's your legal responsibility to store and destroy data according to these regulations.
If your data is improperly destroyed, you run the risk of incurring a substantial fine as a result. While some fees are small, you should know that the maximum fee for HIPAA non-compliance tops out at $1.5 million. That's not something you can take lightly.
Depending upon the severity of the breach, you may also be forced to deal with civil lawsuits from the clients who are affected by the breach. It's impossible to predict the expense, but a large breach could – in theory – cost millions.
Loss of Trust and Damaged Reputation
We can put a price (or try to) on the financial expense of a breach, but that only covers the up-front costs associated with fines and lawsuits. What about the long-term financial effects of improper data destruction?
One of the most damaging things about improper data destruction is that it can erode your clients' trust in you. Regardless of your industry, the people you serve trust you to protect the personal information they share with you. That includes:
Financial information, such as Social Security and credit card numbers
Personal medical information
Names, addresses, and other personal details
If you don't take that responsibility seriously, they won't trust you going forward. And the truth is that, even if you work hard to regain their trust, a single breach could make it impossible to get it back.
Even more disturbing is the fact that a breach can ruin your reputation with potential clients and the general public. They may be less likely to do business with you in the wake of a breach.
Business Closure
By far the most serious potential consequence of improper data destruction is that you could lose your business. According to Inc magazine, 60% of all small business that experience a data breach close within six months.
Improper data destruction makes it more likely that your business will be the target of a breach. If you think your data's been destroyed, you may not protect your data as well as you should. For example, some companies have had trouble because they've given away improperly erased hard drives without a thought – only to discover that the data they thought they had erased was still accessible.
What Can You Do to Ensure Proper Data Destruction?
The best way to ensure proper data destruction and avoid the potentially dire consequences of a breach is to partner with a NAID-certified data destruction expert like Gilmore Services.
A company that understands proper data destruction will guarantee that your data is stored and destroyed properly and in accordance with regulatory requirements – giving you the peace of mind you need.
Conclusion
The consequences of improper data destruction can be severe. The solution? Don't go it alone. Instead, hire a data destruction specialist to help.
Need assistance with data destruction? Click here to read about Gilmore Services' data destruction services!