The Best Document Storage Solutions for Law Firms
Tue, Mar 25, 2014
By: Jacob Gilmore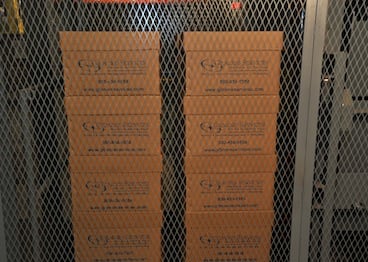 A major section of the legal industry relies on the ability to readily reference information. Cases, rulings, industry literature, files and other archives are all essential to law firms.
Because law firms have such a strong tie to accessing information, hard copy and digital documents are essential to their functionality. Firms must be able to access sensitive, lengthy files quickly in an organized way.
In addition to these documents, standard records that many businesses require, like tax information, employee records, financial records or contracts are also necessary to be stored. Considering space, accessibility and security, the legal industry is faced with a unique challenge when it comes to document storage. Take a look at the best document storage solutions for law firms:
Off-site document storage
Filling multiple filing cabinets, packing a storeroom with boxes and becoming inundated with documents happens over time. Even the most successful firms struggle with records management, stacking boxes floor to ceiling with information. Off-site document storage offers more than one benefit to law firms. It clears your office of clutter for a more productive office space and keeps your documents organized in a secure facility.
With this option, trained and background-checked professionals manage your records, you have easy access to your information and you can quickly find the documents you need in an organized, computerized filing system.
Digital document management
Another document storage solution is outsourcing document scanning or imaging for important legal records. Some legal documents need to be stored for an extremely long time and must be accessed quickly. Rather than sifting through years of hard copy records, a single disk could house your files.
You know where they are at any given time, and you can select exactly the files you need. Large lawsuits can contain thousands of documents. Document scanning can allow your firm to be as efficient as possible by saving time and expediting a usually tedious process. With this option, your filing cabinets are digital and your documents are backed up for extra security.
Both of these document storages solutions give your resources and budget flexibility so you can strengthen your law firm's performance and productivity. Do you want to know more about document storage for your business? Feel free to give us a call and find out the real differences between DIY and professional document storage.