How Much Do Our Moving Storage Containers Hold?
Tue, Jan 28, 2014
By: Jim Beran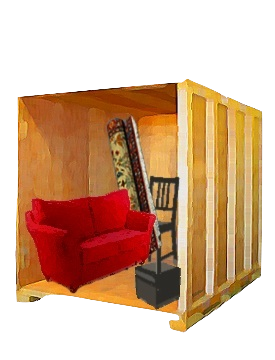 If you have moved before, you know the time and consideration involved in moving from one house to another. After planning, paperwork and researching residential moving companies, it's time to focus on the best ways to take care of your belongings. You might find that it's necessary to store certain items during the moving process, and in that case, Gilmore Services offers moving storage containers to lighten your load.
Will it hold my things?
Are you trying to consolidate an array of items before your move? Maybe you need to scale down an entire room. We're here for you. Most people fit about 1,000 pounds in a container. Items like mattresses, tables, kid's toys, easy chairs and a couch will typically take up space without adding a lot of weight. Large book or magazine collections, weights, workout or yard equipment, and heavy tools, may not be able to use all of the available space. All in all, one storage container can hold approximately an entire furnished room.
Do I need a Moving Storage Container?
If you're staging your to sell home before a move, it's a perfect time to store furniture and items that may clutter your home. Gilmore Services offers a new Home Staging and Unclutter Program to help you sell your listings faster. Gilmore Moving & Storage will remove your selected items from your home, carefully pack them into a moving truck, then safely and securely store those items in our secure warehouse until your home sells. It's like instant staging! And, some of your home furnishings will already be packed and ready for your new home.
Staging your home is much easier with less cutter. Let us store your items in a storage container at our secure facility during your moving process. Planning a move this Spring? See how to prepare in our guide below.