Your Shredding Company is a NAID Member Doesn't Mean It's Certified
Tue, Dec 10, 2013
By: Jim Beran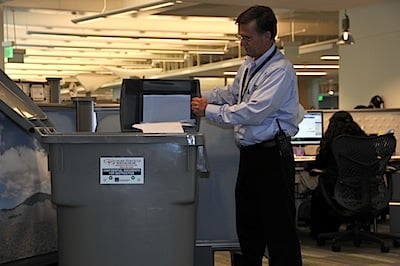 Once you've made the decision to shred your organization's outdated records, you expect your shredding company to take care of the rest. Although shredding records seems like the most secure way to destroy documents, your information could be at risk if your shredding company is not properly qualified. The National Association for Information Destruction (NAID) is the international trade association for companies providing information destruction services.
Membership doesn't mean certification.
It's important to remember that NAID Members who go beyond membership and commit to certification are the only real security assurance in the information destruction industry.
What's the difference?
A certified organization has proven that they have obligated themselves to operate in strict accordance with these standards and their compliance is routinely and randomly evaluated. Organizations that are members are subscribing to a professional association. They have access to publications and security guidelines, and they are also included in the supplier directory. However, organizations that become certified have committed significant resources to ensure the security of the information they handle on behalf of their customers.
Criteria for certification:
NAID certified Gilmore Services because of our techniques and dedication to your security. Some of the reasons why NAID stands behind Gilmore Services is because we:
Conduct background checks prior to hiring new employees
Conduct a criminal record search on a county-by-county basis in each country the new employee has resided in the previous seven years. We also verify employment of new applicants over the last seven years.
Require new employees to sign confidentiality agreements
Require drivers to meet all applicable licensing requirements
Conduct drug screening on new employees at the time of hiring and random drug screening of all employees
Secure all customer materials from unauthorized access before destruction
Ensure all customer materials are contained during file transfer from customer custody to destruction vehicle to prevent loss from wind or other atmospheric conditions
Conduct comprehensive third party background checks on owners and officers of our own company
At Gilmore Services, we're proud to be NAID certified to protect your information using the highest standards. Give us a call to learn more about the ways we can properly shred, scan, and store your information for you.