5 Spring Cleaning Record Retention and Document Shredding Tips
Thu, Jun 04, 2020
By: Jim Beran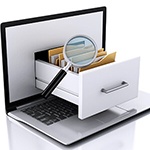 Spring is rapidly approaching and for many companies, it's the ideal time to do some spring cleaning by clearing out and shredding old documents.
At Gilmore Services, we work closely with our clients to develop record retention and document shredding schedules that accommodate their needs. With that in mind, here are 5 spring cleaning record retention and document shredding tips to help you this year.
#1: Evaluate Your Needs
Which documents do you need to keep, and which do you need to shred? You can't be sure that your spring cleaning will be complete unless you take inventory of your documents and know what your record retention needs are.
There is no one-size-fits-all solution for records retention, but you can find information about how to evaluate your personal records here, and your business records here.
#2: Make Security a Priority
Both business and personal documents are valuable because they contain data. Your personal documents have information such as your Social Security Number, credit card numbers, and bank account details. Business records may include both sensitive information about your company and personal information that you store on behalf of your clients.
Either way, security must be your top priority when you're spring cleaning. It may be tempting to handle document destruction and storage on your own, but there are significant risks involved with doing that. Your best bet – particularly if you are entrusted with documents that contain protected information – is to partner with an experienced document shredding company.
#3: Plan Ahead
A lot of people and business owners do their record maintenance housecleaning in the spring. That being the case, it's essential to plan ahead and make sure you have the assistance and resources you need to stick to your record retention and document shredding schedule.
That may mean scheduling an appointment with a local shredding company in advance. If you don't already have a partnership with a shredding specialist, the time to start is now. Look for a company that has a NAID certification.
#4: Consider an On-Site Shredding Bin
A big question for many of our Gilmore Services clients is how to keep their sensitive documents secure while they await shredding. Our suggestion is to have an on-site, secure shredding bin. Our bins are locked, preventing anybody from getting to the documents inside.
The bins remain on your premises until we come and pick them up. We can either shred them on site or take them to our secure shredding facility and destroy them there. Either way, you will have an unbroken chain of possession and receive a certificate of destruction when your documents have been shredded.
#5: Create a Disaster Recovery Plan
It's always a good idea to plan for the unexpected. While nobody can anticipate everything, a proper disaster recovery plan will ensure that:
Your original documents are stored in a place that is fireproof and protected from weather and water damage and rodents.
Your vital documents are properly scanned and imaged.
You have digital access to the documents you need 24/7 even if you can't get to your office or home.
You can sleep easy knowing that your documents (and the data they contain) are protected and secure.
A disaster recovery plan is the best way to keep your most important documents safe, and to guarantee access to them even if the worst happens.
Conclusion
Spring is the right time to create a record retention plan and a disaster recovery plan, and to securely destroy any documents you don't need to keep. The tips we've listed here will help you handle these things properly and with a minimum of stress.
Need assistance with your record retention? Click here to learn how Gilmore Services can help.