4 Things You Need to Know About Your Records Retention Schedule
Wed, Dec 10, 2014
By: Jacob Gilmore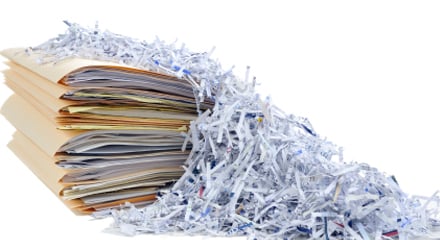 Owning or managing a business involves more than just the big picture. With important information coming in and going out on a day-to-day basis, it can be a challenge to keep track of important documents. From hospitals to financial firms to small businesses, no organization is too big or too small for a proper records management plan.
When it comes to your records retention scheduling, is your business up-to-date?
A proper records retention schedule primarily keeps your business compliant, but also helps make information easy to locate and retrieve for legal discovery and for disposal at the end of their life.
Here are 4 things to know about your records retention schedule:
1. It's all about order. Retention schedules thrive on organization, and a records management company keeps information indexed for easy managing and retrieval. This means documents like contracts, leases, tax records, healthcare information, invoices and more are stored with their appropriate retention dates. Remember, even the most organized file cabinet can't actively keep track of your records' lifecycle.
2. Electronic counts too. Records are records, even when they are in digital format. If you choose to scan and electronically store certain documents, your document management company can manage retention schedules for imaged information as well as email and general correspondence.
3. Plan for destruction. One of the most essential aspects of a retention schedule are document destruction dates. By having clear dates for when to destroy information, you help save your business from big financial fines, reduce storage cost by eliminating documents and cut down on office clutter from records taking up space.
4. It needs attention. To be most effective, your retention schedule needs periodic review and maintenance. Because many business owners or managers rarely have time to consider their documents' lifecycles, a professional document management team ensures your information is up-to-date.
Some of the major reasons businesses face fines are from avoidable issues like lost, misplaced or unsaved information. Is your company vulnerable to litigation or discovery?
with a strong retention schedule.