What is Proper Document Destruction?
Mon, Oct 31, 2022
By: Jim Beran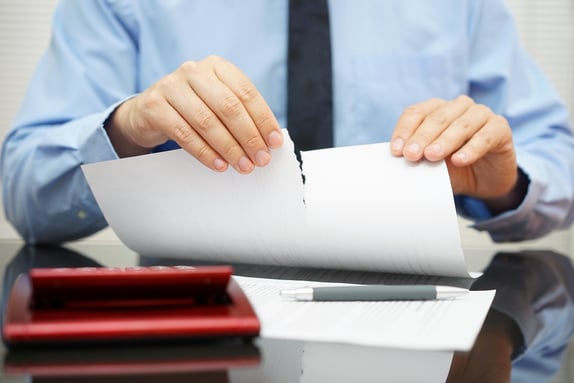 Document destruction is very important to make sure that people aren't getting access to sensitive information. A lot of people just toss things into the trash and don't worry about what happens to them afterward. While that's generally fine for some items, there are plenty of other pieces of paper that could have important details on them. You don't want just anyone to get their hands on any of that. Proper document destruction is the way to reduce that risk and have more peace of mind.
You Need Secure Document Shredding
It's much easier to keep your documents safe and compliant if you have quality document destruction and shredding services. While there are documents you absolutely need to keep, there are also many of them that can be destroyed. Doing that properly and on a schedule that meets your needs helps with convenience and safety for your business and its clients. Proper document destruction involves shredding services you can rely on to keep your business running smoothly and paperwork reduced to manageable levels.
There are a lot of privacy laws and regulations for compliance that you need to be aware of when you're in business. Depending on the industry you're in, there may be more or fewer of these types of regulatory concerns. Every business needs to be aware of privacy laws, though, and needs to protect the data and sensitive information their customers provide. That can include names and email addresses, along with credit card information, order details, and other pieces of knowledge.
Proper Document Destruction is a Continual Process
There are some times when an individual needs a one-time document shredding to clear out their office or other paperwork. But for companies, proper document destruction is generally a continuing process that needs to be handled on a schedule and a timeline. Even businesses that try to keep as much of their information online as possible still often end up with paper backups of many forms and pieces of information. Some companies also require paper copies of certain documents, that can be destroyed eventually.
For those types of companies, document destruction becomes an event that happens periodically. It fully disposes of the documents and ensures that they're shredded in a way that doesn't allow for reconstructing them or collecting any of the data they contained. Cross-cut shredders are often used for this purpose, because they shred paper into tiny pieces as opposed to long strips that could be lined back up in an effort to collect information.
Contact Gilmore for Your Shredding Needs Today
Your company's shredding needs are important, and Gilmore can help ensure you're getting proper document destruction. Not only does that reduce the risk of any information falling into the wrong hands, but it also helps you keep your paper storage needs down. Holding onto some types of paper records may be required, at least for a certain period of time, but most companies are transferring everything they can to the cloud, and only keeping paper that's required by laws or other regulations.
Gilmore offers a scheduled shredding service that makes document destruction easier and more convenient. We can also help with secure document storage for those papers that can't be destroyed, but that are taking up a lot of room at your company's location. Reach out to us today, for a trusted partner in handling all your documents the right way.