The Best Packing and Planning Advice for an Interstate Move
Wed, Jun 22, 2016
By: Jacob Gilmore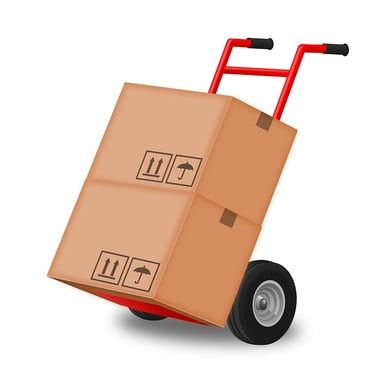 If you've ever had to move to a new home, then you know it can be a big job. No matter the final destination, packing up your personal belongings, putting everything in boxes, moving everything out, and transporting your items to a new home can be exhilarating—but it can also be stressful, time-consuming, and just plain hard work.
All the emotions, efforts, and costs seem to multiply if you're moving out of state. Unlike moving to a new house within your current city, or even just an hour or two away, interstate and cross-country moves require much more time, work, and money.
Of course, price plays a significant role in your decision. The American Moving & Storage Association estimates the cost of an interstate move to be $5,630 based on a weight of 7,100 pounds over 1,200 miles. This is nearly five times the cost of an in-state move.
While a local move might be reasonable to plan and execute on your own, moving to a new state can be almost impossible if not for a qualified company to help you pack, transport, and unload your personal belongings. Below we offer some of our best packing and planning tips for an interstate move.
Formulate a plan
When you are preparing to move yourself and your family to a new house out-of-state, it helps to take a step back and think about the big picture. Make a plan for what you need to accomplish, and write down ideas for getting there. Consider dividing your items into categories of "pack," "donate," and "trash" to help you avoid packing things you no longer want or need.
Determine your moving dates, contact any relevant service providers to end or begin new service contracts, and plan to make any household repairs that might be needed before you leave your old house or move into your new one. This is also a good time to consider whether or not you wish to work with a professional moving company.
Start as early as possible
Moving takes a lot of time, and many people will tell you that moving day has a tendency to sneak up on you. Start as early as you can with organizing, packing, and other preparations that can be done in your spare time or over the phone. Once you've narrowed your list of potential moving companies, begin making calls as early as possible to learn more and, eventually, reserve your desired moving date. Weekend moves usually fill up that fastest and require at least a month's lead time.
Choose a moving company to help
Searching for residential moving companies is unlike most other services. You are entrusting movers to enter your home, handle your possessions, and carry them a great distance. Before you reach a decision, be sure to search around, ask for recommendations, and make a few calls for price estimates.
When investigating companies, confirm that any company you consider is licensed with the Federal Motor Carrier Safety Administration (FMCSA), which legally requires interstate movers to maintain proper licensing and communicate to homeowners their rights within any contract. Most companies will provide an estimate that is binding (guarantees the total cost ahead of time) or nonbinding (estimates a cost that may change based on total weight of your cargo and services provided).
Decide which services you need
Depending on the distance you are moving, the amount of belongings you have, and your comfort level, you can decide how much help you'll need from a moving company. Some people prefer to do some of it themselves, probably with a little help from friends or family. You can also hire a company to do it all: pack the boxes, load the truck, transport the cargo, and unpack everything into the new home.
When moving out of state, it's important to consider all your options and the associated costs involved. Although money is a necessarily part of moving, it's important to make a smart decision with any professionals you choose to hire. After all, you want someone who will do the job right and care for your things just as you would.
Gilmore Services has been in the moving business for more than 60 years as a family-owned and operated Wheaton Worldwide-certified moving agent based in Pensacola. Our employees work carefully, responsibly, and professionally to ensure your ultimate satisfaction.
Learn more about how qualified residential Pensacola moving companies like Gilmore Services can help you with your out of state move.