Tax identity Theft: What You Need To Know
Tue, Apr 05, 2022
By: Jim Beran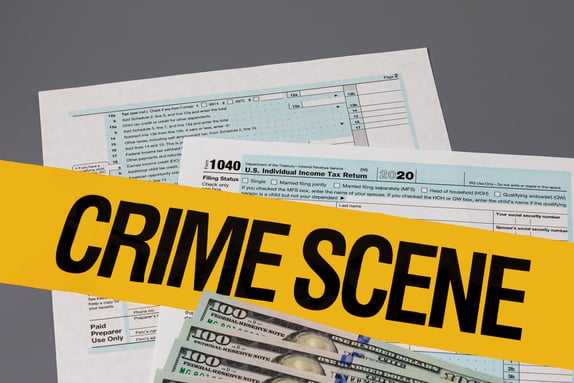 Identity theft is a draw for criminals, one that allows them to wreak havoc on people's lives while being shrouded in secrecy. When tax season pops up, the stakes get even higher. All the information, from your Social Security number to your transcript, is often relatively easy to both intercept and capitalize on. The best thing for anyone to do right now is to be aware of how criminals function and who they target — because it's not always the wealthiest people. In fact, it's more likely to be an everyday person who just got a little careless about security.
How Can Tax Identity Theft Occur?
It depends on the people involved in the equation. Some identity thefts 'work' in organizations, similar to a regular, legitimate business. Others work alone, pilfering information and then designing different scams on the data that they managed to score. If you're looking for a tax identity theft description, it's usually when a criminal files your tax return for you. You may find this out after you:
Get a letter from the IRS about this fake return.

Are blocked from filing your return because you're using a duplicate Social Security number.

You receive a tax transcript in the mail for a return you didn't file.

You receive a notice that someone else has tried to access an existing account of yours.

You receive a collection notice from the IRS.

The IRS lists an employer that you didn't work for.

You were assigned an Employee Identification Number despite never asking for one.
You might be surprised to learn that criminals don't always need all your information in order to file false tax returns. Often, an identity theft tax return is incomplete or incorrect. Even if the return is dismissed as fake by the IRS, there's always a chance that the criminal might get lucky. If not, they may not have spent all that much time or energy putting the scam together.
Tax Identity Protection
Protection starts with understanding how to keep your information from prying eyes. This means secure passwords, multi-factor authentication, and encryption for your most important financial data. However, you also have to remember that all of your paperwork can be an invitation for thieves to do their worst. Shredding documents can be a great way to reduce your odds of ending up on the wrong side of a successful attack. However, this doesn't mean collecting documents in a spare room for years on end before you finally break out that home shredder you have. Ideally, you should contact a professional organization that can take care of all your paperwork in one fell swoop. During tax time, it's an effective strategy that can help you file and forget.
Contact Gilmore
Gilmore specializes in document destruction for both individuals and commercial businesses. If you're concerned about filing this year, it might be because you know that criminals are eager to take advantage of all the opportunities out there. Contact us today to learn more about what it takes to protect yourself, and how we fit in. Whether you want to arrange a one-time drop-off or you're interested in ongoing services, we're here to lend a hand.