Shredding: 7 Commonly Forgotten Documents
Mon, Jun 08, 2020
By: Jim Beran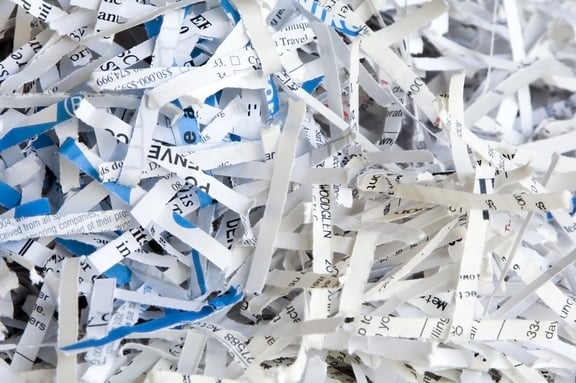 When you think about shredding personal document, your focus is probably on financial documents. Anything that could potentially compromise your credit or put you at risk of identity theft is an obvious chose for shredding and you're not likely to overlook it.
At Gilmore Services, we provide residential shredding services for individuals and families. One of the most common questions we hear is this:
Which documents should I shred?
It's essential to understand the answer to that question and we're here to help. Here are 7 commonly forgotten documents that you should be shredding.
#1: Receipts
When you go to the store, do you save your receipts or throw them out? If you don't need to save them for tax purposes, you might be tempted to simply trash them.
That's a mistake. Credit card receipts list the last four digits of your credit or debit card and may also show your signature. Even a cash receipt can reveal personal information that you might not want strangers to have. Your best bet is to shred them before discarding them.
#2: Prescription Labels and Related Information
Prescription labels contain a wealth of personal information, including your full name and the name of your doctor. However, the real risk is that someone could take the label and use it to steal and refill your prescription, leaving you vulnerable to health issues or problems with your insurance company.
Along the same lines, make sure to destroy the personal information the pharmacy attaches to your prescription bag. Remember that you may need to soak your prescription bottles to remove those labels, while the papers included with your prescription may be shredded.
#3: Boarding Passes
Boarding passes reveal your name and where you've been, but there's a risk that a thief could use a boarding pass to access your frequent flyer account and steal your miles.
While you're at it, you should also destroy the luggage tags the airline puts on your bags, since those may also be linked to your frequent flyer account.
#4: Birth and Death Announcements
When you have a baby or lose a loved one, it's common to order birth announcements or funeral programs to share with your extended friends and family.
Children are vulnerable to identity theft because their credit reports frequently receive no scrutiny until there's a problem. And when somebody dies, a thief might be able to apply for credit cards or do other things in their name if they have access to their personal information. It's fine to save copies if you want to have them, but make sure to shred any extras before you dispose of them.
#5: Resumes
Resumes contain a wealth of information, including your:
Name
Phone number
Email address
Mailing address
Educational history
Employment history
That's a lot of data to hand over to anybody who happens to rummage through your trash. If you update your resume and want to get rid of outdated copies, make sure to shred them first to avoid problems.
#6: Pet Information
For many of us, pet names provide handy passwords that are easy to remember. The problem? If someone learns your pet's name, they may be able to access your accounts, too.
If you no longer need documentation of a pet's visit to the vet, shred it. (And while you're at it, pick strong passwords!)
#7: Return Labels
When you order something online, the retailer you bought from most likely includes a return label in case you need to send the product your purchased back. If you throw the label away without shredding it, someone might be able to use it to steal your identity.
In addition to return labels, make sure to remove labels with your name and address from boxes and envelopes and destroy them, too.
Conclusion
Residential shredding is just as important as business shredding because, if you don't do it, it can put your identity and financial security at risk. Shredding the 7 documents we've listed here will help you protect yourself and your family.
Are you looking fora shredding service to help you dispose of personal documents? Click here to learn how Gilmore Services can help!