Shred-A-Thon 2022: 45 Tons of Paper Shredded and 756 Trees Saved
Wed, May 25, 2022
By: Jacob Gilmore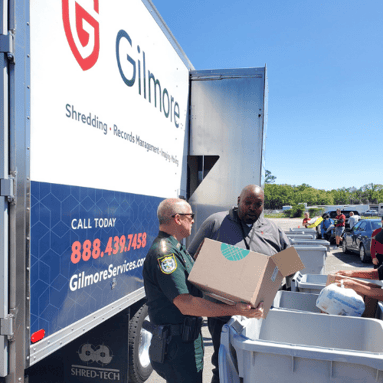 Gilmore recently provided trucks for annual shredding events in Pensacola, FL, and Mobile, AL. Designed to help people cut down on the odds of identity theft, the two events drew in 2,622 drop-offs and 89,000 pounds of document destruction.
Shred-A-Thon in Mobile, AL
"I know a lady who has documents since 2006. Another couple came in who've had documents since 1980." The regional branch manager for Navigator Credit Union, a partner of the event, wasn't shocked to learn that many people were holding onto their paperwork, but he did comment that shredding it all was one of the best ways to cut down on your odds of identity theft. Overall, the event drew in 1,600 cars and collected 50,000 pounds of paper.
In Mobile, a line of cars was wrapped around the studio of sponsor Fox 10 News, where they were greeted by local talent and smiling faces. Documents were shredded on the spot thanks to four large shredding trucks provided by Gilmore.
The Shred-A-Thon in Mobile was made possible by both the local news station and the credit union. Both organizations were proud to connect with people and offer their support and guidance to anyone who wanted to relieve themselves of all that extra weight piling up in their homes.
Pensacola, FL
The 3 Cares Shred-a-Thon invited people to shred up to 50 pounds of either loose or stapled paper, courtesy of Gilmore's on-site shredding trucks. Held at the Pensacola Interstate Fairgrounds, people were happy to show up and do their part. The event drew 1,022 cars and collected 39,000 pounds of paper.
The Shred-A-Thon in Pensacola was made possible by several partners, including the BBB, WEAR ABC 3, Cat Country, and the Escambia County Sherriff. All of these organizations are dedicated to improving the lives of people in the county, whether by providing the best in country music, patrolling the streets, or providing business profiles for the thousands of businesses in the Northwest Florida area.
The Ripple Effects of Shred-A-Thon 2022
This annual event was a coordination of different organizations, and Gilmore is grateful to each and every party that made it possible. These events aren't just a way for local news stations to talk to their loyal audience. It's a mix of different businesses and community interests coming together to both raise awareness about identity theft and inspire people to make more room in their homes.
While secure paper shredding isn't the only way to protect people from identity theft, it's an important step to help avoid a bigger disaster down the road.
Contact Gilmore
Gilmore provides a number of shredding services to individuals and commercial enterprises alike. From mobile destruction to hard drive destruction, the idea is to get rid of sensitive information in a way that won't tempt opportunists of any kind. While we tend to think of identity theft as digital these days, the truth is that events like the Shred-A-Thon shine a light on how crime can come from any direction. Contact us to learn more about how we can help you organize and destroy your paperwork.