Why Replace Your Manual Paper Shredder with a Shredding Service?
Mon, Feb 24, 2020
By: Jim Beran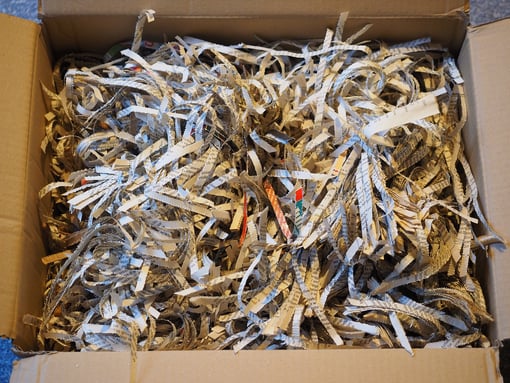 Is your company still using a manual paper shredder? There are many businesses that rely on employees to shred documents instead of partnering with a local shredding service.
The problem with the do-it-yourself approach is that you may run into difficulties if you fall behind shredding documents. At Gilmore Services, we see a lot of companies who wait until they've got a huge accumulation of documents to be shredded, which they then need to bring to a shredding service in bulk. It can be both time-consuming and expensive.
While we recognize that some business owners may think of a manual paper shredder as a convenience, let's talk about why you should replace it with a professional shredding service.
Why Document Shredding Matters
Let's start with why document shredding is important. There are many reasons that businesses must shred documents. These include:
Adhering to regulatory requirements for document destruction, including HIPAA, FACTA, and Sarbanes-Oxley. Failure to properly dispose of regulated materials may result in fines and damage your reputation.
Keeping your office uncluttered. When shredding gets backed up because you're using a manual paper shredder, you may have documents taking up valuable real estate in your office. Not only will you not have room for new documents, but a cluttered space can make a bad impression on your clients.
Paying too much for shredding. It might seem counterintuitive to say that it's less expensive to hire a shredding service than it is to have an existing employee do your shredding. However, when you consider your employees' hourly rates or salaries, you will realize that their time is valuable and there are better ways for them to spend it than shredding your old documents.
Every company needs a schedule for document shredding and destruction and partnering with a shredding service is the best way to ensure that you're doing what you need to do to protect your data.
Potential Problems with Using a Manual Paper Shredder
The truth is that partnering with a shredding service is a smart move for any business. Even if your employees are careful and shred documents promptly, there are still issues that can arise from using a manual paper shredder.
For example, inexpensive shredders may only cut your documents into strips. If you dispose of them in your recycling bin or dumpster, there is a chance that someone could pick up your documents and reassemble them from the strips.
By contract, Gilmore Services is a NAID-certified document destruction specialist. We use state-of-the-art shredders to render your documents unusable by anyone.
Another reason that you should use a shredding service is that they will provide you with complete documentation that your documents have been destroyed according to regulatory requirements. In the event that there's a question about non-compliance, you'll have the proof you need to show that you have met your obligations.
Finally, shredding services make it easy to shred documents when and how you want to do it. For example, at Gilmore Services, we offer both on-site and off-site shredding. We'll provide you with secure bins for your documents. Then, we'll either come to your office and destroy the documents there; or, if you prefer, we'll remove the bins and shred them at our secure facility.
Using a manual paper shredder might seem to be a good choice, but the truth is that choosing a shredding service is the best way to meet your regulatory requirements and keep your company's valuable documents from falling into the wrong hands.
Are you ready to get rid of your manual paper shredder and partner with an experienced shredding service? Click here to learn how Gilmore Services can help!