Post Covid Downsizing
Fri, Jul 23, 2021
By: Steve Clopton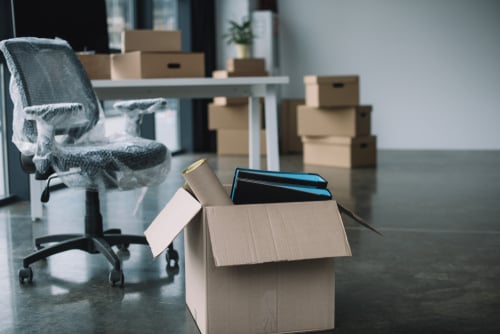 You're ready to get back in the swing of things and are considering downsizing your home office. There are tons of things you can do, but first, determine why you are downsizing. Have your needs changed? Are you going back to the office? Businesses have a few challenges ahead as they determine whether they will start employing a full staff at the office, keep a rotating hybrid of employees, or want to go entirely remote. For employees, as you're contemplating what's next, consider the following:
You may want to downsize but consider safety. If you're considering downsizing your office desk, will you still be as productive?
Things may have changed at the office, but considering other employees is key. If they are, downsizing your office at work will you be able to safely social distance or reconfigure your workspace to one that works for you?
Downsizing your office
What does that look like for you? Will you have enough document storage options? What about document scanning? If you're someone who needs privacy, how will that space look? All of these must be taken into consideration while contemplating what will happen once you return to the office. Downsizing at home is understandable, especially if you've been working from home for a significant amount of time.
One of the main reasons for downsizing your office at home is because there is too much stuff. This can get hectic, especially if you have to deal with sensitive information and you have printed reports. That is a sure-fire way to compromise data without even trying to. Businesses that have key employees working from home with such sensitive data should have recurring document disposal protocols in place to handle situations where the paper overload is too great.
Downsizing your office at work
Knowing how you're going to downsize your office can make a difference in the way you move. Businesses can make small upgrades and keep the same levels of security. Areas, where storage and scanning are a necessity, must have the right protocols in place. Additionally, instead of having areas where document shredding takes place, using a company that specializes in document destruction to come to pick up those items on a recurring basis can help save storage space for repurposing.
Downsizing is not necessarily a bad thing – it adds more space. While every business is not transitioning to a space where everyone is fully returning to the office, accommodating the individuals who are going to be in the office with more space and upgraded computers or technology that can make things easier is key.
Contact Gilmore
Gilmore is one of the leading document destruction companies in Pensacola and the surrounding areas. From commercial warehousing and storage to one-time, scheduled, or drop-off shredding services, you'll have a partner to address all your document shredding needs. The first step is letting us know what you need and how we can help. Next is a reasonable quote to make sure your business remains operational in and outside of the office.
For more information on our services, contact an agent today