One Time Shredding Services, We Make It Easy!
Wed, Apr 26, 2023
By: Jim Beran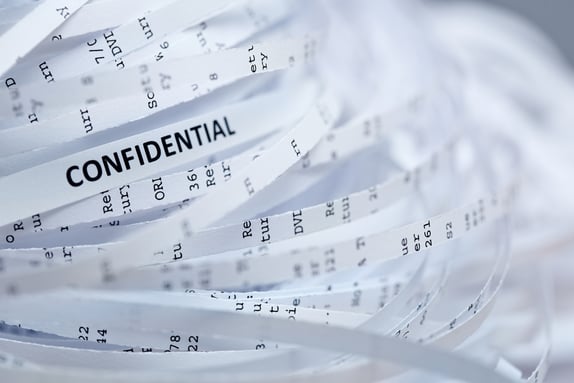 Security is important both at home and in the office. It's important to safely dispose of unwanted papers. Otherwise, your paperwork could fall into the hands of criminals intent on stealing your identity or the private information of your customers.
Papers have a way of piling up. Many people know that they should be shredding their old papers, but they keep on putting it off. Then, the stacks of papers to be shredded grow even larger.
There's an easy solution. Hire a company that does one time shredding. Let the experts use their equipment to shred your documents for you. It's a great option for people who don't need to schedule regular shredding sessions, but do want help once, or every now and then, to safely dispose of their accumulated papers.
How One Time Shredding Can Help You Declutter Safely
Clutter causes many problems. It increases stress, impairs judgment, and makes it harder to concentrate. It can even make you sick.
When your papers are disorganized and you don't know where things are, there's a greater chance that your confidential information could fall into the wrong hands. Sometimes, when clutter builds up, people get so frustrated that they just grab armfuls of paper and throw them in the garbage or recycling bin. This could be a serious mistake.
When you throw away papers without shredding them, would-be identity thieves can find them and use the confidential information to open bank and credit accounts in your name or in the names of your customers. Once an identity thief gets ahold of your info, it can be a huge headache that can take months or even years to straighten out. Be safe by hiring a professional one time shredding service to dispose of your clutter.
Why You Need a Shredding Service for Your Work-From-Home Employees
Many employees are still working from home, and that trend is likely to continue. If your company has remote employees, you need to ensure that the data and information they access from home remains secure, just as you would if they were working in the office.
Your company should have a written data security policy that all employees must follow. Work-at-home employees should receive training in data security, and there should be a data-breach alert system in place.
Remote employees must also be able to safely dispose of their paperwork that contains confidential or sensitive information. Some employees may not generate enough paperwork on their own to require regularly scheduled shredding days. By using a one time shredding service, you can easily arrange to have your employees' papers shredded whenever the need arises.
Contact Gilmore for Professional and Reliable One Time Shredding Services
Gilmore's one-time shredding service is a great solution for people clearing papers out of their homes and businesses who don't need frequent shredding sessions.
Gilmore provides shredding services for homes and businesses across the Southeast and beyond. We are NAID certified and take pride in being friendly, fast, safe, and affordable. We're a family-run business founded more than 65 years ago, now run by the grandsons of our founder, James Gilmore.
We are committed to customer service and people-centered security. To find out more about how we can help you protect your security with our one time shredding services, call us at (888) 439-7458, or fill out the contact form on our website.