Navigating Hard Drive Destruction: 3 Must-Know Data Destruction Tips
Wed, Feb 10, 2016
By: Jim Beran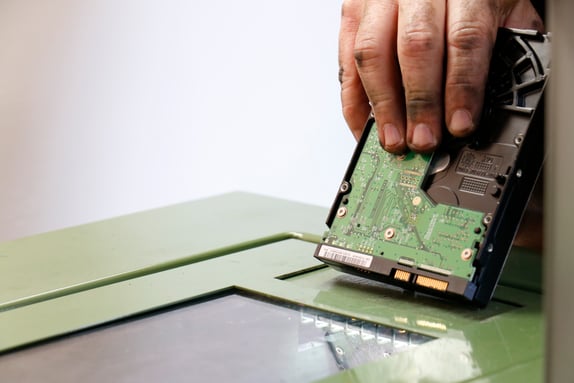 Long gone are the days of strictly handling paper files.
Dealing with records in an information-rich age can be tricky business. In today's typical work environment, employees may operate primarily on a computer for several hours a day. They are managing their daily work, saving important company documents and archiving copious amounts of email.
Over time, client and employee information is accumulated. Electronic records may contain company emails, phone numbers, credit card information, social security numbers, and an unlimited amount of miscellaneous information, all stored within a computer's hard drive.
In the unfortunate event that a company computer stops operating, do you know the proper way to dispose of a computer hard drive? A simple solution might seem to be to take the hard drive out to the parking lot and put a hammer to it. Unfortunately, you might find yourself in a liability nightmare. Even though the information is destroyed, there are legal parameters that must be followed when it comes to data destruction.
Here are the 3 must-know data destruction tips:
Protect private information
Cyber crime is on the rise. It's a records manager's responsibility to keep customers' and employees' sensitive information protected and top priority. Poor planning in the destruction of your company's computer hard drives can reflect poorly on your entire records management plan. Ultimately, proper hard drive destruction eliminates the possibility of hackers from infiltrating sensitive information.
Legal destruction
There are a number of legal methods for destroying information in electronic form. The most commonly known techniques are overwriting, degaussing and physical destruction. Still wondering why using a hammer or giving your hard drive an acid bath won't work? Large or highly regulated institutions like hospitals and banks, are required to have a detailed record containing the serial numbers of individual hard drives and the date on which it was destroyed.
Using a NAID certified and audited destruction company provides the needed documentation for compliancy with laws and regulations such as: Gramm/Leach/Bliley, Privacy Act, FACTA, HIPAA Security Rule and the Payment Card Industry Data Security Standards for properly managing and discarding of data and information.
Environmental safety
As digital processes become more common in office settings, it's important to have plans in place for how to recycle certain materials like hard drives, DVDs, CDs and Tape Reels. When you carry out your hard drive destruction process with the help from a professional records management company, be sure to inquire if your materials will be recycled appropriately.
Is your business ready for hard drive or other media destruction? To find out more information, contact our hard drive destruction experts today to discover what options are right for your company, or download our free guide below on how to secure your business documents.