If Moving Boxes Could Talk: 3 Inside Tips for Your Pensacola Office Move
Tue, Nov 14, 2017
By: Jacob Gilmore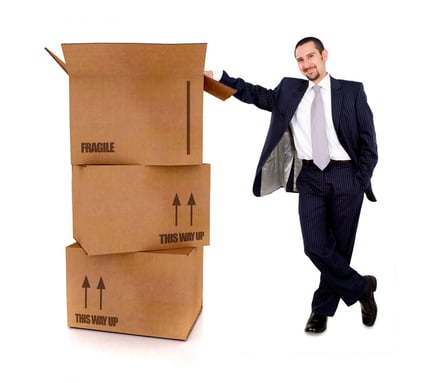 So you need to move your office but don't know where to start. No problem! That's where I come in — I am the moving boxes you need for your next office move. Moving is often a painstaking and time consuming process, but it doesn't have to be.
I've got a few tips to streamline your Pensacola move and make the process as painless as possible for you (and me).
1. When packing me up: stay organized
Let me give you a tip: the key to a successful office move is organized packing. If you spend a little extra time to pack documents effectively, you will thank yourself when it comes time to unpack.
Try breaking up the process to avoid becoming overwhelmed and losing important information. For example, start at file cabinets, then pack the desks, and then move to the bookcases, etc. Each section of the office should be treated as a mini-project delegated to certain individuals to cut down on downtime and redundancies. As long as you segment the effort, and tackle it one stage at a time, you are much more likely to experience a successful move.
Packing is also a great opportunity to review retention scheduling for documents. If your small business is like most, day-to-day responsibilities have likely gotten in the way of record management, so it's easy to overlook document lifecycles. Outdated or misplaced documents that might have slipped through the cracks could lead to costly fines, so while you're packing up documents for a move be sure to also review their intended retention and destruction lifecycles. If your time is limited, professional retention scheduling will keep track of document lifecycles so you don't have to.
2. When I'm on the truck: choosing the destination
You've got me on the truck, but now you need to decide the next location. Will you unload everything into an office again, or should you maximize space with offsite records storage?
Many office managers are choosing offsite document storage in order to free up space in the office, improve document safety and ensure accurate document retention scheduling. Choosing the right storage option can save you time, money and stress down the line.
3. When you need me and when you don't
These days, moving boxes like me are making way for another storage option: the cloud. Sure, we will always have a job safely storing your important information, but thanks to cloud storage many documents are also converted to digital copies instead of being lugged to a new office.
One study found that by 2018 nearly half of businesses will have moved their core operations to the cloud. You might recognize the many improvements in safety and workflow efficiency that are offered by cloud storage, but are finding yourself stuck with an office overflowing with paper records.
You can turn filing cabinets full of paper into easily navigable digital files with document conversion services. The process is very simple: document scanning experts will pick up and scan documents, and then convert records into high-quality images in formats such as PDF and TIFF. You can then keep the physical record for storage or coordinate proper document destruction services with you records management partner.
Make the right move for moving boxes like me — contact Gilmore Services for more information on professional retention scheduling, offsite document storage, digital conversion and many more ways to make your next office move a breeze.