Hurricane Preparedness: The 6 Crucial Documents You Must Protect
Thu, Aug 22, 2019
By: Jim Beran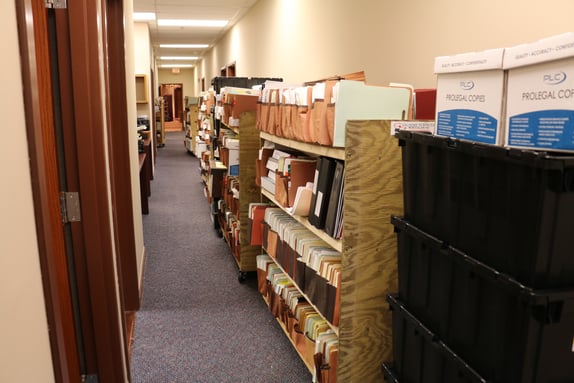 Hurricane season is here. In Florida, those words must be taken seriously. Hurricane preparedness is essential for every business.
At Gilmore Services, our business clients often ask our advice about hurricane preparedness. They know they can trust us to offer good advice about how to prepare – and specifically, how to ensure that their valuable business documents are safe.
With that in mind, here are 6 crucial documents your business must protect ahead of hurricane season – and some tips on how to protect them.
#1: Formation Documents
The first documents to protect as part of your hurricane preparedness are your business formation documents. These include your:
Articles of incorporation
LLC operating agreements
Partnership agreements
Corporate minutes
Business plans
Company bylaws
Mortgages and leases
Without these crucial documents, you could run into trouble if you needed to sell or dissolve your business. Make sure to include any raised seal documents (government originals) and not copies.
#2: Licenses and Permits
If your business needs a license or permit to operate – and most businesses do – then protecting them must be a priority. Without a printed copy of your license, you might not be able to conduct business.
Licenses and permits to protect include:
Local business operating license
Zoning permits and land use permits
Building permits
Fire department permits
Health permits
Environmental licenses and permits
Industry-specific permits (for example, security companies must have special permits)
Whatever permits are required for your business, it's essential to keep them safe and ensure you can get to them before, during, and after a hurricane.
#3: Tax Returns and Supporting Documentation
It's hard enough for any Florida business to recover after a hurricane. If you can't find your tax returns and other relevant documentation, you could end up in trouble with the Internal Revenue Service.
For that reason, it's crucial to protect and properly store your tax documents. Items to protect include:
Your tax returns
Employee tax forms (W-4 and W-9 forms)
Receipts for deductible expenses
Depreciation records
Canceled checks or receipts for tax payments
Of course, your tax information and that of your employees must be stored in such a way that no unauthorized person can access it.
#4: Stockholder Agreements and Stock Certificates
Stockholder and shareholder agreements spell out the rights of shareholders, including both protections and responsibilities. You'll need written copies to regroup after a hurricane or other disaster.
The same goes for stock certificates. Many companies issue stick certificates to partners and employees. You'll need proof of their holdings if your office is impacted by a major hurricane.
#5: Employee Records
Employee records contain sensitive personal information about your employees, including their Social Security Numbers, copies of identifying documents, performance reviews, job descriptions, and more.
You'll need access to your employees' records after a hurricane. For that reason, safely storing these documents is an essential part of hurricane preparedness. As is the case with your business tax documents, employee records must be kept away from unauthorized personnel.
#6: Customer Contracts
Your ability to do business is directly related to your ability to service your customers. For that reason, you must include protection of your customer or client contracts in your hurricane preparedness.
The documents to protect may include:
Sales contracts
Service agreements
Legal agreements
Client files and folders, including any personal or corporate business information, tax information, or operating information
During hurricane season, you may want to move the originals of your client agreements to a secure location to ensure that you have access to them if your office is inaccessible or damaged.
Conclusion
Hurricane preparedness isn't just about personal safety. As a business owner, it's your job to protect the essential documents that allow you to operate.
Click here to learn how Gilmore Services can help you with hurricane preparedness.