How to Choose the Right Pensacola Moving Company
Wed, Oct 26, 2016
By: Jacob Gilmore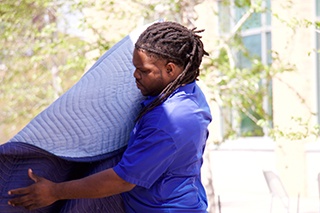 Many would agree that moving is one of the more stressful things in life. Sorting through all your worldly items, packing them in boxes, transporting them — and yourself — to a completely new place is hard work. Add in the additional stressor of choosing a reliable moving company to handle a lot of that labor for you, and the stress can easily turn into anxiety.
Moving is more than just an address change. It's a life change. When you have to move, and you're based in Pensacola, how can you be sure that you choose a reliable moving company? Here are six tips to follow to help mitigate the stress of moving and choose the right Pensacola moving company.
Get a referral
Just as this advice can be applied to many situations, it's very effective when choosing moving companies. People tend to rely on referrals from friends, family, and coworkers because they trust those people in their lives. A good experience goes a long way, and word of mouth can be an invaluable form of marketing. So, ask around. If you're moving your office, get in touch with other business owners in your area. If you're moving your family, talk to neighbors and friends. If you have a moving company in mind, ask them directly if they can point you to any recent customers for a direct referral.
Ask about credentials
When you decide to work with a professional moving company, you want to make sure they have some experience. Even better, if they are certified or trained. Ask the company to tell you about their background and certifications. Start by contacting your state moving association and looking up the mover's licenses to make sure they abide by state regulations. For a move across state lines, the moving company must be licensed with the federal government, and have a current U.S. Department of Transportation number. To be safe, look up your mover on ProtectYourMove.gov.gov as well as the American Moving and Storage Association (AMSA) at moving.org.
Consider the company's reputation
When it comes to choosing a moving company, it's okay to have high standards. Take the time to do your research, look them up online, and read reviews. Consider their reputation in the industry and among users. Don't be afraid to ask about the company's history, too. Just take our moving division at Gilmore Services, for example. We have been in a family owned, local moving business for 60 years.
Get an estimate in writing
When researching Pensacola moving companies, be sure to discuss pricing up front, and always get an estimate in writing. It's not enough to simply speak to someone over the phone. Always ask about pricing policies, and always ask to see the fine print. Consider all the spaces in your home you need moved (including the basement, crawlspace, and attic). You may also want to see a moving contract (also called a bill of lading), an order for service (authorizing the mover to transport your possessions), and an inventory list (a receipt for each item being moved).
Get insurance
Consider your insurance options before moving. Some homeowners may already have an existing policy, and many states have their own requirements. There are also federal laws mandating interstate movers to offer "full value" protection — a comprehensive insurance you must pay extra for, and "released value" — a complimentary insurance that will reimburse you for a portion of an item's value if it is lost, damaged, or stolen.
Trust your gut
When it comes down to it, it's important to trust your gut when choosing a moving company. Once you've asked for referrals, done your research, seen their licensure, and checked on insurance, you still have to feel comfortable with the company and their team. Be sure to give yourself the time you need to find a reliable service. Then, you can move forward knowing your household items are in good hands.
Whether relocating to a new office or moving to a new home, you can trust Gilmore Services with your most important belongings. Our movers are trained for full-service packing, crating, moving and unpacking of the most fragile items, and our company has been in the moving business for more than 60 years. With full-service commercial and residential moving services available and professional and courteous staff every step of the way, Gilmore Services offers a reliable and trustworthy moving experience in and out of Pensacola.
Want to learn more? Contact us below with your moving questions, and get a free consultation today.