HIPAA-Compliant Document Shredding Options for Small Businesses
Tue, Jul 07, 2020
By: Steve Clopton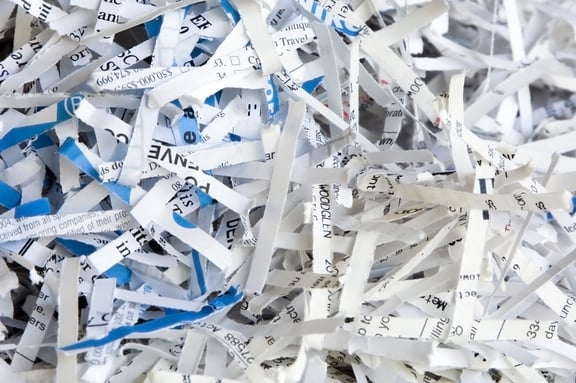 Businesses that are bound by HIPAA regulations, including those who are in the health care industry and related spaces, must take care to dispose of patients' personal health information properly.
At Gilmore Services, we specialize in HIPAA-compliant document shredding. Depending on your needs, you have several options available to you. We recognize that it can be difficult to know which type of shredding is best suited to your needs and budget, so we've created this guide to help. Here's what you need to know.
Freelancers, Contractors, Lawyers and Businesses in Small Spaces
People who work for themselves, including freelancers, contractors, lawyers, and anybody with a work-from-home business, typically have minimal space where they can store documents to be shredded. When HIPAA-compliant shredding is neglected, it can cause issues of crowding and non-compliance at the same time.
For that reason, we suggest businesses in this category choose the document drop-off option. It works like this:
You collect HIPAA-related documents to be shredded.
At your convenience, you bring them to a secure shredding facility to drop them off. At Gilmore Services, we have adapted our on-site services to encourage social distancing and prioritize safety.
We destroy your documents and provide you with a certificate of destruction.
This option is best for entrepreneurs and sole proprietors because you can drop documents off when you need to, freeing up space in your home or office. It's shredding on your schedule and at your convenience, and it is a cost-saving option ideal for businesses on a budget.
Small Businesses with Minimal Shredding Needs
For small businesses with shredding needs, the best option is on-site shredding, which is also known as mobile shredding. Our clients who use mobile shredding include small hospitals, banks, and even government offices.
With on-site shredding, we deliver a locked bin to your office. You place any documents to be destroyed in the bin. You choose a time for us to come to your office and destroy the documents with our mobile shredding unit. You can even watch your documents be put into the shredder for visual confirmation of their destruction.
The benefit of on-site shredding is that it allows you to witness the destruction of your sensitive HIPAA documents. The documents will not leave your premises until they have been destroyed and you will receive a certificate of destruction. This option is the most expensive shredding option, but many of our clients choose it because they want to ensure documents are shredded as soon as possible.
Businesses with Multiple Locations
For larger companies with multiple locations, a more cost-effective option is off-site shredding. As is the case with on-site shredding, off-site shredding starts with the delivery of locked bins to your offices. You place your sensitive documents in the bins.
According to a schedule you specify, we will come to your office and pick up the locked bins. It's important to choose a NAID-certified document destruction specialist for any type of shredding. We maintain a strict chain of possession to ensure that no unauthorized person handles or accesses your documents.
You can track your documents using GPS. When they have been destroyed, you will receive a certificate of destruction that you can use to prove you have complied with HIPAA rules.
Because off-site shredding allows us to pick up documents from several locations in one trip, it is less expensive than on-site shredding. If you have multiple locations or you need to save money, off-site shredding is a option for your business.
Conclusion
Secure shredding can help you adhere to HIPAA regulations and ensure that your sensitive documents are properly destroyed.
Click here to learn about Gilmore Services secure shredding options.