Let Us Come To You: Gilmore's Mobile Shredding Solutions
Wed, Jan 19, 2022
By: Jim Beran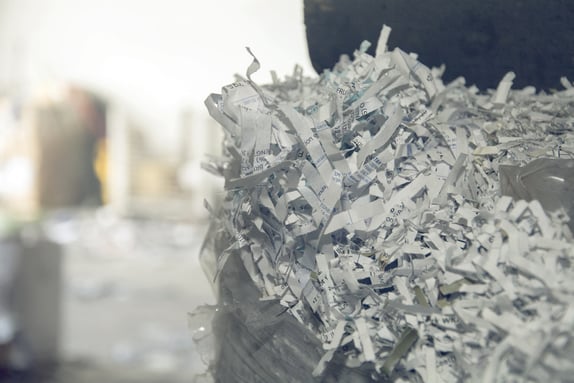 Most Americans have paper waste at home that would pose a risk if disposed of in the garbage can, like bank statements, tax returns that are beyond their retention period, loan applications, and more. Any document that contains your date of birth, social security number, passwords, signatures, bank account number, or credit card number can be used by criminals to steal your identity and cause you harm. Additionally, documents that contain your address, phone number, email address, family history (i.e. mother's maiden name, grandparents' names, etc.), children's names or dates of birth, and more can be used to guess passwords and initiate unwanted contact. Shredding documents that contain confidential information is key.
Secure Mobile Shredding
One convenient risk mitigation strategy is secure mobile shredding. Secure mobile shredders come to your home and shred any confidential documents while you watch - if you choose to - to ensure your information remains secure until documents are shredded and data is no longer accessible. Documents that should be shredded are those that contain confidential information. Examples include:
Expired passports or driver's licenses
Expired or inactive debit cards and credit cards
Bank statements that are over a year old
Medical records that are over a year old
Tax records that are more than 7 years old
Other documents that contain passwords, signatures, or personal information
Items that you can throw in the garbage or recycling are advertisements, magazines, newspapers, and other documents that don't contain identifying or personal information.
Residential Pick Up Shredding
Mobile shredding services provide convenience and peace of mind. While most shredding companies only offer mobile shredding to organization, some offer residential shredding, which offers the same convenience and peace of mind to individuals. With secure mobile shredding, you simply schedule a one-time or routine pick-up and have your shredding ready when the truck arrives. They'll take your documents and shred them on the spot - under your supervision if you'd like - so you can rest assured you and your family are protected from identity theft.
Mobile shredding security is a step above off-site security for that reason; you have the opportunity to watch the process from start to finish, easing any worries you might have about the process.
Contact Gilmore
You can stop searching for 'mobile shredding near me' - Gilmore provides residential shredding in the Pensacola, FL, Marianna, FL, Montgomery, AL, Tallahassee, FL, and Mobile, AL, areas. We offer both on-site and off-site document shredding, digital data destruction, scanning/digitization of records, moving services, document management, and confidential records storage for individuals and businesses.
Take the first step toward protecting your privacy and identity today. Subscribe to our newsletter or contact us online to get started. Our team looks forward to learning more about your needs and contributing to your peace of mind in the new year. When it comes to document shredding, Gilmore's got your back.