Expert Tips for Overcoming the 4 Biggest Residential Moving Blunders
Wed, Dec 21, 2016
By: Jacob Gilmore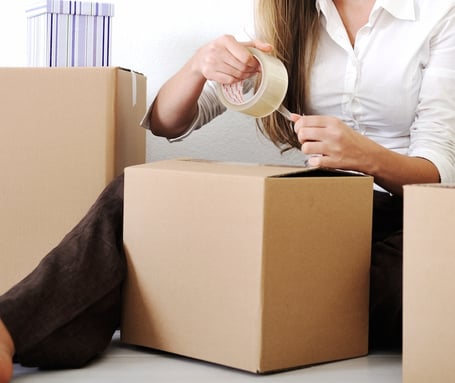 Whether you are relocating down the street or across the country, moving is often a stressful and time-consuming process. From preparing your family and friends to selecting the right moving company, planning for a move starts well before the packing and transportation begins.
It's easy to make mistakes if you rush the moving process and fail to plan. Miscalculating logistics and skimping on researching moving partners represent just a couple of the potential pitfalls of a move. Here are our expert tips on how to avoid the four biggest residential moving blunders.
Plan ahead
Planning begins the moment you decide to relocate. The logistics of a move can take weeks or even months to properly arrange, so it's important to start the process as soon as possible.
First, decide on your moving dates and begin vetting potential moving partners. Set an approximate moving budget and schedule an estimate with one or more local companies. The results will give an early idea of what the moving process will cost and help you stay within your budget.
Prepare family & friends
Moving can be a traumatic experience, especially for young children who may have to move schools and leave other comforts that represent stability. Avoid any issues by preparing your children and any local family members.
Involve friends and family in the moving process to build up excitement. The more engaged loved ones become, the less anxiety they will feel about the move.
From a planning standpoint, if children will be moving schools, ensure to reach out to administrators to facilitate the process. When possible, introduce your children to the new school before they start to make them feel more comfortable.
Don't take on too much
Whether you're making your first move or your fifth, it can be tempting to save money and time by adopting a do-it-yourself approach. More often than not, however, DIY moves cause headaches.
Many people don't realize how much work a DIY move requires. Moving is an emotionally draining process, and when you take on all aspects, it becomes physically demanding as well. Lifting and carrying heavy boxes can lead to physical pain and even injury.
With a DIY move, you also miss out on the professional know-how of a moving company. Effectively protecting your valuables and furniture and driving a moving truck are part of the professional moving process but present real challenges for the non-professional.
Work with the right partner
If you do decide to work with a moving partner, ensure to vet the company thoroughly. Any moving company you work with should be certified, reputable and professional.
Talk to any neighbors with moving experience. Ask them about which company they used and how the moving process went. Simply asking around can help you narrow down your list of potential partners.
When you decide to work with a professional moving company, make sure they have experience and check if they are certified. Contact your state moving association or U.S. Department of Transportation to look up the mover's licenses to make sure they adhere to state regulations.
Most importantly, discuss move pricing up front. Get an estimate in writing to avoid surprises during the process.
At Gilmore Services, we understand the burdens individuals and families face during a move and strive to eliminate some of the stress from this transition. When researching Pensacola moving companies, you can feel confident knowing that our highly screened moving team will handle your cherished items with care, while saving you time, money and the hassle of purchasing moving supplies, renting extra equipment and taking extra time off work to move all those boxes.
Contact us to learn more about our moving services. Or, download our guide: How to Emotionally Prepare for a Move.