Future of Gilmore
Fri, Apr 16, 2021
By: Lucas Gilmore
In 1955, Jim Gilmore started a company to help people and businesses move their precious, sentimental and personal belongings. What started as a moving company has evolved into a business that goes beyond transportation. Under the direction of our father, Ronnie Gilmore, we expanded our services to include document management and storage, shredding and data hard drive destruction, and digital imaging and scanning, among others. Today, we serve over 6,000 clients from along the Gulf Coast to across the country.
What started as a family business passed down through the generations has grown into a large family of employees committed to safeguarding our customers' most valuable assets. While we have grown and evolved over the years, one thing remains constant: our promise to deliver the very best in customer service. We are known and recognized for our commitment to security and privacy, but it's our people who make the difference.
We remain a family-owned business, but our family has grown considerably in size—to include the people behind the desks, to those behind the wheel, those behind the phones, and those behind the scenes in our warehouse. And also, you, our customers. You helped shape the future of this company. And we want to say thank you for your trust in us over the years.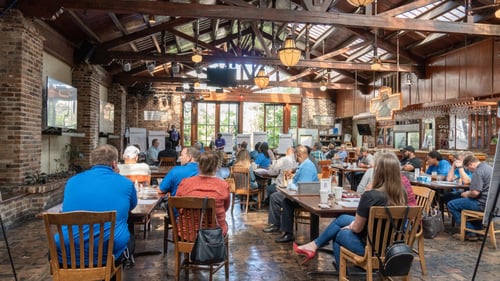 Last year was a challenging time for many businesses, ours included, but it also afforded us the opportunity for reflection, celebration and appreciation. For the first time in our company history, we brought our entire family of employees together to help guide and shape the future of the Gilmore name and business. In our time together, we uncovered an indisputable truth: we are a business built on earning trust by creating and sustaining strong, long-lasting bonds and relationships.
This is the focus of our brand promise: People-Centered Security. Over the next several months, we will be working through creating a new visual identity that reflects this promise. We'll be creating new messaging that more accurately communicates the concepts of security, safety, service and simplicity. And we'll remain committed to bringing to life the legacy that our Grandpa Jim Gilmore started over 60 years ago.
This is a big step in our company's evolution, and one that we are all excited to make. We hope that you are as excited. We invite you to be part of our next chapter in writing the next 60 years, together with us by staying in touch and following our evolution and journey on Facebook and Twitter.
Lucas & Jacob Gilmore