Gilmore Services: Essential Service Designation
Fri, May 01, 2020
By: Jacob Gilmore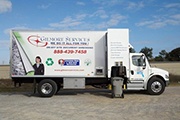 One of the things we have all been learning as a result of the COVID-19 pandemic is that we are all interconnected in ways we may have taken for granted. Those connections include both our personal lives and our businesses.
The Department of Homeland Security has designated some businesses and employees as essential. That designation applies to data destruction and storage and therefore, to Gilmore Services. Here's what you need to know.
Statement from the Department of Homeland Security
The Cybersecurity and Infrastructure Security Agency (CISA) operates under the authority of the Department of Homeland Security. It has released an advisory list identifying essential businesses. It reads, in part:
It also includes workers who support crucial supply chains and enable functions for critical infrastructure. The industries they support represent, but are not limited to, medical and healthcare, telecommunications, information technology systems, defense, food and agriculture, transportation and logistics, energy, water and wastewater, law enforcement, and public works.
Data storage and destruction plays an integral role in helping healthcare providers and companies in a wide array of industries to:
Access their data and vital records when they need them
Create and index digital images that are accessible remotely
Create data and document destruction schedules in accordance with regulatory requirements under HIPAA, FACTA, and Sarbanes-Oxley
Provide proof of destruction
Serve as a critical layer of protection of the privacy of individuals
We take these responsibilities – and our essential service designation – very seriously. We have implemented policies and procedures to ensure that our clients have access to their data at this difficult time, and that their sensitive documents and data are destroyed in accordance with regulations.
What to Expect from Gilmore Services
You might be wondering how the current pandemic and the shelter-at-home orders will affect the service you receive from us. Here's what you need to know.
The first thing is that your safety and the safety of our employees is our top priority. We must keep operating, but it's our intention to do it in accordance with CDC recommendations regarding business operations, sanitation, and cleaning.
Inside our facility, we are cleaning frequently to keep our employees healthy and safe. We have currently closed our facility to all visitors, including clients.
That means we're no longer providing walk-in shredding services. We hope to be able to offer that service again at some point in the future, but currently, it is not safe to do so.
You can still come to see us and drop off or retrieve documents. Our procedures have changed because our lobby is closed to visitors. Here are the steps you'll need to follow:
Ring the outside bell.
Wait for a Gilmore Services employee to come outside to meet you.
Explain your needs in a safe, open-air environment.
Drive around to the back, where a properly protected Gilmore Services employee will load or unload documents from your vehicle.
We can still come to your business to pick up or drop off shredding bins. However, we will no longer ask you to sign a scanner, since we believe that a no-contact system offers the most safety. Instead, our driver will enter your name in the scanner to record to the activity.
The most important thing for you to know is that we are here for you and that you will be able to access your documents any time you need them. We are committed to working with and for our clients during this crisis to ensure we provide the best service possible.
Conclusion
Things have changed, but at Gilmore Services we are determined to put our clients' needs and safety first.
Need help managing your critical business records? Click here to learn about our services.