Next Steps to Take for a Medical Practice Closure or Retirement
Wed, Aug 27, 2014
By: Jim Beran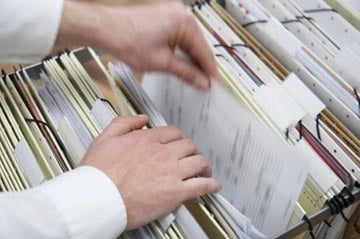 When a medical practice closes or a physician retires, one of the most important things to address is patient medical records. We recently covered the first steps to take when facing a medical practice closure, like the importance of safeguarding confidential information. After taking inventory of medical records and contacting a document storage company, take these next steps to carry out a medical practice closure to protect patient files and stay in line with regulations.
Determine the need
When considering the information to be managed during the closure, it's important to determine your business's need for records management services. Depending on the type of records and retention periods, a determination can be made on which documents need to be retained and which documents need to be destroyed, if records have met their overall lifecycle, or document retention.
Notify patients

When a practice closes and medical records need to be transferred, patients should be notified that they might designate a physician or another provider who can receive a copy of their records. If the patient does not do this within the time allotted before the closing of the practice, the records may be transferred to a custodian like a commercial record storage company. Typically, the custodian will take care of ensuring that copies of medical records will only be released to the medical practice's patient, or patient's authorized representative.
Remain complaint
Though states may have different guidelines or laws, the State of Florida mandates that the "records owner", or the physician who generated the record after treating the patient, is responsible for ensuring that these records will be available to the former patients for a number of years from the patient's last visit.
This means arrangements must be made to either have another physician, or a commercial records storage company become the new "records owner" in order to provide copies upon request to former patients.
At Gilmore Services, our records management division provides Release of Information (RoI) services for our clients. This means confidentiality is never compromised and no one can access the information contained in the medical records without a signed release from the patient or a properly executed subpoena or court order.
Be sure before you shred
If the majority of files have a management plan, don't immediately shred everything else quite yet. There are usually many documents that need to be retained for a certain time period. It is wise to consult your attorney for legal counsel and recommendations, as many business records and human resource files will still be important for some time. A well protected, clean storage environment with authorized access is the best solution for storing documents that must be retained for several years.
At Gilmore Services, we are fully equipped, and have decades of experience, in handling the boxing of all of your records, regardless of the type, and are able to provide document scanning services as well as 'hard copy' storage services, as needed during this transition.
Is your medical practice closing or is a doctor retiring? Give us a call today to begin the secure transition for patient files.