5 Things To Do To Enhance Information Security
Wed, Sep 16, 2020
By: Jim Beran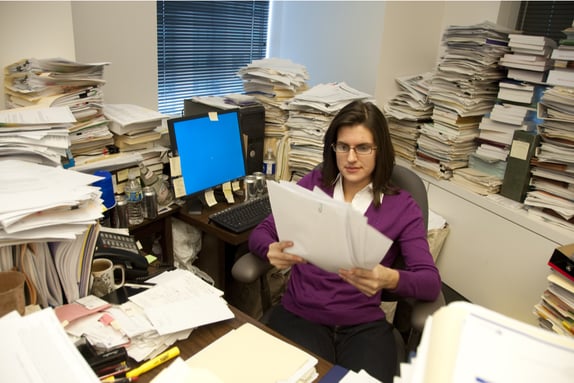 If information security is not at the top of your list, it should be. You could have to pay large fines should you experience a data breach. While most companies know about securing data, their employees may have some habits that open companies to identity theft and data breaches. Our five recommendations to create a more secure environment for company data include:
1. Protect Your Clients' Sensitive Information
Every business has confidential information in the workplace for employees, clients and owners/CEOs. You can protect your clients' sensitive information by learning how to improve information security in an organization.
Whether you have addresses, birth dates, social security numbers or other personal information, it often takes just one piece of information for an identity thief to create a full profile for a stolen identity. Keeping files locked up, accessible to only those who need them, and shredding old files help mitigate the chance of someone stealing data.
2. Keep Your Office Organized
You might think that you have all of the security measures in place and wonder how to improve data security. If your office is cluttered and disorganized, it is easy to forget documents that should not be left out or even lose documents. And, if an identity thief should break into your office – or an employee decides he or she wants to make a little extra money on the side, you'll leave them with a goldmine for identity theft.
Part of keeping your office organized is keeping your files organized. Decluttering your paper files by getting rid of old files that you no longer need mitigates identity theft.
3. Protect Your Data
What can organizations do to improve information system security and privacy? The biggest thing you can do is to protect your data, including passwords and accounts. Make sure your employees have a strong password, that they change the password every three months, and that you lock digital files. Only those who need the files to do their job should have access to the files. You can password protect directories to mitigate unauthorized access. Password-protecting directories also makes it harder for hackers to get into your files if they manage to get into your network.
4. Data Breach Notification Process
What are some important steps that organizations can take to protect their resources? One of the most important steps is to implement a data breach notification process, especially if you have people working from home. You can create alerts that notify you of data breaches to help you figure out where the breach came from. If you do have a data breach, you'll need to add additional security once you find out how the hacker breached your system. If you don't have an internal IT division, hire a trustworthy company to help you with securing your network.
5. Confidential Documents
Give three actions that the office manager could take to ensure data security in your next security meeting. Three actions might include:
Not leaving confidential documents on your desk;

Making sure you remove confidential documents from shared printers; and

Keeping confidential files under lock and key at all times.
Contact Gilmore Services
Gilmore Services provides mobile shredding services and secure document storage to help you declutter your office files. Contact us for more information about our services and to schedule an appointment for us to drop off lock boxes for your business.