How Cloud Document Storage Can Help Keep Your Business Compliant
Wed, May 18, 2016
By: Jim Beran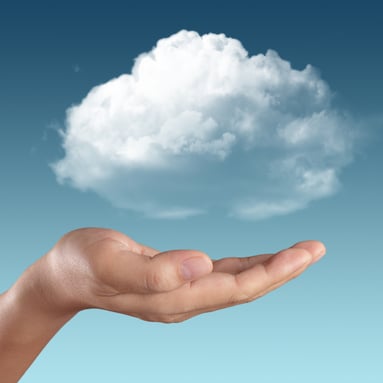 Cloud computing is one of the fastest-growing technologies in the world. Yet, as the term becomes more and more common, its meaning remains shrouded in mystery. What is the cloud, and why does it matter to your business?
The meaning of "the cloud"
"The cloud" is defined as a network of remote servers used to store, manage, and process data. This practice of storing computer data on multiple servers accessible through the Internet is also known as cloud computing. Many use the cloud as an alternative to local servers and personal computers, which can run out of space and offer limited functionality or security.
If you're still confused, you're not alone. CEO of Salesforce.com Marc Benioff said: "If someone asks me what cloud computing is, I try not to get bogged down with definitions. I tell them that, simply put, cloud computing is a better way to run your business."
The growth of cloud-based storage
He may be onto something there. After all, the cloud is growing. Experts predict that the global market for cloud equipment will reach $79.1 billion by 2018. That's because the cloud is no longer just a place for IT professionals. Businesses in all industries are harnessing the computing power and data storage capabilities of the cloud.
IBM recently published an infographic detailing all the reasons businesses might want to use the cloud, including increased insight and data sharing opportunities, better collaboration, and even cost savings. Key among them is data storage. In fact, one study surveyed more than 3,200 companies in 80 countries, and 72% of them were using cloud services for data storage.
Clearly, cloud document storage is becoming more common. In the case of secure document storage and backups, organizations and companies are using the cloud as an extra layer of security and compliance when storing sensitive information.
Using cloud storage to stay compliant
However, compliance is another tricky subject. How can you know which documents should be moved to the cloud, which to keep in-house, and what security measures are in place for the documents that have been uploaded?
Different organizations have individual requirements they must to meet to comply with current legislation. Common standards include Payment Card Industry Data Security Standard (PCI-DSS), which involves protecting client credit card data. Another is the Health Insurance Portability and Accessibility Act (HIPAA), which focuses on individuals' health information. Yet another is the Sarbanes-Oxley (SOX) law, which states that a company is responsible for any accounting or financial wrongdoings, even if these are the result of a third-party cloud service provider.

The best way to be sure your cloud-based documents remain compliant is to understand the types of data you need to store. That will help you know which regulations you need to comply with. Then, you can look for cloud storage providers who have controls and processes in place that keep data compliant with those regulations.
What to look for in a records management service
Even better, consider partnering with a professional records management company. Rather than saving the information to in-house computers or using unregulated or unsecure cloud storage options, a professional document management company can provide the most compliant services and ensure total document security.
When looking for a records management service, ask about digital document scanning services to get you started. Then, explore their IT support options, secure document accessibility, and encryption services.
Staying compliant with data encryption
Data encryption services help companies go a step further in maintaining document confidentiality. Cloud-encryption means that all documents are accessible on-premise, but encrypted as soon as they are saved to the cloud. Some regulations require all data stored on hard drives and cloud-based servers to be encrypted. Encryption is another way companies can remain compliant when using cloud service providers.
According to Diana Kelly with Cloud Security Alliance: "Used properly, data-centric encryption security prevents unauthorized access and tampering regardless of where the data travels, and means organizations can enjoy the business benefits of cloud computing without putting sensitive data at risk."
Backing up your secure documents on the cloud is one important line of defense when it comes to protecting your valuable business information. By knowing your industry and doing your research, you can find an off site, cloud-based storage service to meet your needs and help keep your business compliant, too.
A complete cloud storage system from Gilmore Services
Gilmore Services offers complete records management services, with hard copy document storage and compliant cloud storage options through software as a service (SaaS). Customers are given a secure online portal to access records from their office computers without any special training, licensing fees, or user limits. With decades of experience and up-to-date industry knowledge, the Gilmore Services team are experts in keeping data secure and businesses compliant.
Learn more about our cloud storage service and click below to follow our flowchart to determine how compliant your business truly is.