A Precautionary Tale of Flooding and Document Storage
Tue, Jun 17, 2014
By: Jacob Gilmore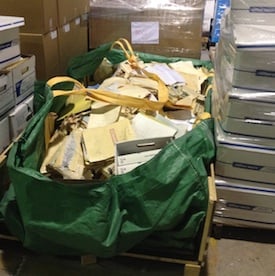 Nearly two months after the historic flooding that caused unprecedented damage in Northwest Florida, many local business and homeowners are just beginning to pick up the pieces and get back on track. The extraordinary weather circumstances that saturated neighborhoods and washed away roads caught many people off guard as homes and businesses flooded and important personal belongings and business records were water-soaked.
At Gilmore Services, we shredded (literally) tons of water-damaged documents for area businesses following the flood. While we always welcome new businesses, this was certainly not the scenario that we wanted to meet new customers. We hope to not have to see businesses endure such damage again. Now that hurricane season is now in effect, it is crucial to help ensure your business will remain intact no matter the weather conditions. As we recently discovered, extreme weather serves as a lesson on the importance of staying prepared.
Where are your files right now?
There is no doubt the recent flood was a big wake up call to many businesses with damaged documents. At Gilmore Services, we discovered that many of the documents were destroyed because they weren't stored properly. The majority of water damaged documents were either stored in business's basements or in a self-storage unit. Both of these options can put your documents at risk in a flooding situation.
How to stay prepared
As a full-service records storage company, Gilmore Services did not experience any damage from flooding. All of our records are stored on elevated, metal racks in a controlled environment for the ultimate security. In addition, important document management services like computerized file indexing, effective pest control and document scanning services are not included at most self-storage facilities.
Keep in mind that document security guarantee, insurance coverage, employee background checks and document shredding services are also not included services at self-storage units. Professional document storage companies offer these services standard for the most secure storage option at an affordable rate.
Did you know that you could store 100 boxes a month for less than a cup of coffee per day at a professional document storage company? See which professional document storage plan is best for your business:
Bronze: store 1-70 boxes for $40.90 a month
Silver: store 71-100 boxes for $58.50 a month
Gold: store 101-150 boxes for $87.64 a month
When it comes to your business's valuable information, it is best to prepare now, before a crisis situation. Check out our side-by-side comparison chart to see the real difference between your document storage options.