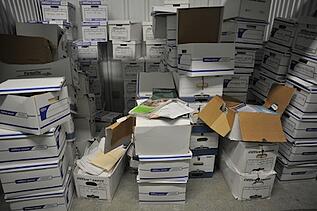 Have you noticed that your office is slowly becoming more cluttered with boxes or stacks of documents? As your business grows, a filing cabinet is often not enough to contain all of your important records. Rather than stacking boxes aside in your office where they could be misplaced or damaged, it might be time to reduce the clutter and consider offsite document storage.
There are several document storage options that could be the right fit for your business. One way some people store documents is by using a self-storage unit. Although a mini-storage unit can be an easy way to store records, it's important to consider the hidden costs and dangers of document self storage.
High costs
Storing your documents shouldn't cause a huge dent in your bank account. When you use a self-storage unit, you are actually paying more for fewer benefits. Important services like computerized file indexing, effective pest control and document scanning services are not included at most self-storage facilities. Instead, did you know that you could store 100 boxes a month for less than a cup of coffee per day at a professional document storage company? Finances aren't the only reason why self-storage can hurt your business.
Security not guaranteed
Threats like theft, prying eyes and environmental dangers like mold or water damage can seriously harm your important documents and put your business at risk. Keep in mind that document security guarantee, insurance coverage, employee background checks and document shredding services are not included services at self-storage units. Professional document storage companies offer these services standard for the most secure storage option at an affordable rate.
Ready to make the switch to professional document storage? See which professional document storage plan is best for your business:
Bronze: store 1-70 boxes for $40.90 a month
Silver: store 71-100 boxes for $58.50 a month
Gold: store 101-150 boxes for $87.64 a month
Want to see the complete difference between storing records professionally, with self-storage or at your office? Take a look at our full, side-by-side cost comparison chart below: