5 Reasons Why Cloud Storage is Right For You
Wed, May 26, 2021
By: Jim Beran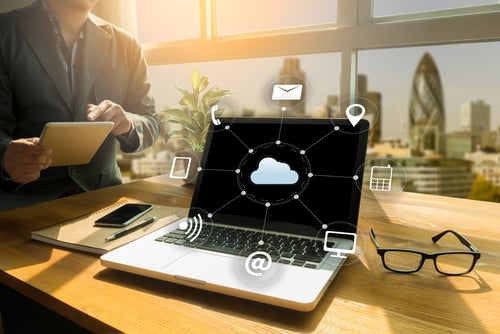 As a business owner, it's important to keep track of tools, resources, and processes that can make things easier. Document storage is very important and moving it online to cloud storage makes sense. Imagine having to dig through enough boxes to house in a gym, and then a cloud services system where everything can be viewed and downloaded in a matter of minutes.
If you're on the fence about document storage online, here are 5 advantages you should consider:
Document storage online is cheaper than brick-and-mortar document storage solutions. This saves space, there are no more hardware or maintenance requirements, and is the more affordable option.
With digital storage, you can access your files from anywhere in the world, alleviating the need to be in the office to retrieve documents.
Your digital documents and data is stored on multiple servers which makes it safer than having it in one location. If one server fails, your information is still safe.
Business owners can effectively use cloud storage as part of their document storage solutions and pay for what they use as they grow.
Cloud Storage
Your business will stay compliant with document storage and it is a common, preferred option. This adds additional security to confidential data. With so many regulations in various industries, cloud storage gives your business an opportunity to stay within the requirements for PCI-DSS, HIPAA, SOX, GDPR, and others. Using a cloud storage provider who has the necessary controls and processes to keep your information stored safely and in compliance is key. One of the most important elements when utilizing these solutions is data encryption. Cloud encryption is a key factor in compliance.
Document storage solutions
Knowing the right solutions makes the difference. Working with a reliable records storage company will keep your records safe. When using document storage solutions, the environment is usually controlled to make sure your files are safe from inclement weather, pests, and more. There are a number of add-on services that can make using this type of facility more secure. Finding a solution where documents will not be compromised or damaged can be concerning. This is one of the major reasons why many small businesses are now turning to document storage online.
Document Storage Online
Using document storage online options, you can save a lot of money. There is no additional fee for a storage space needed, the files will not be damaged, sensitive and confidential information is encrypted, and more. A records management company is effective in that it monitors your files, makes sure things are going well and there are no data breaches. You have around-the-clock access to company information, making the online option more attractive for small business owners who are always on the go and wear many hats. Imagine all your employee records, contracts, taxes, manuals, receipts, and every document of importance being put on the cloud. The time and effort spent manually inputting information can take up time and overall, money.